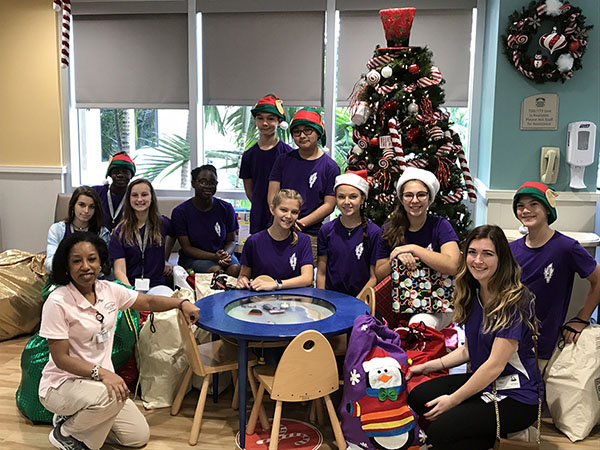 There is nothing fun about spending the holidays in the hospital, especially if you are a kid. Understanding how terrible this can be, the Polo Park Middle School National Junior Honor Society sponsored its sixth annual toy drive, where students in the school donated new toys that 10 members of the NJHS brought to Palms West Hospital on Dec. 21 to hand out to children.
Dressed as elves, the students handed out toys ranging from stuffed animals to dolls to remote-control cars to Lego sets. The gifts went to children of all ages, ranging from newborns to toddlers to elementary school age, even handing out some gifts to teens in the hospital.
Presents were given to children in the pediatric ward, the pediatric intensive care unit and the pediatric oncology unit. While some of the students walked around handing out presents, others stayed in the children's playroom, setting up presents for the kids to pick from later in their common room.
"The visit to the Children's Hospital at Palms West was definitely a heartwarming experience," NJHS President Isabella Moss explained. "To the patients we were able to personally deliver presents to, their faces lit up with joy that almost brought me to tears. It's very unfortunate to be in the hospital at such a young age for such a long time, especially around the holidays. We just wanted to make their stay a little brighter."
The NJHS was able to collect and donate more than 100 toys, enough to not only hand out to every child in the hospital, but also plenty left over for children brought to the hospital in the weeks following. The group also donated a number of board games, puzzles, play sets and a new DVD player that the hospital can keep in the playroom for all children to use.
"This is now the sixth year we have sponsored the toy drive, and it was truly amazing to see our community come together to help us collect donations," NJHS co-sponsor Emmalyn Green said. "Our NJHS students were amazed at how generous the students and staff were. During their visit to the hospital, our NJHS officers saw that they can bring smiles to the faces of kids who are sick and hurting. It reminded them of the impact they can have by giving."