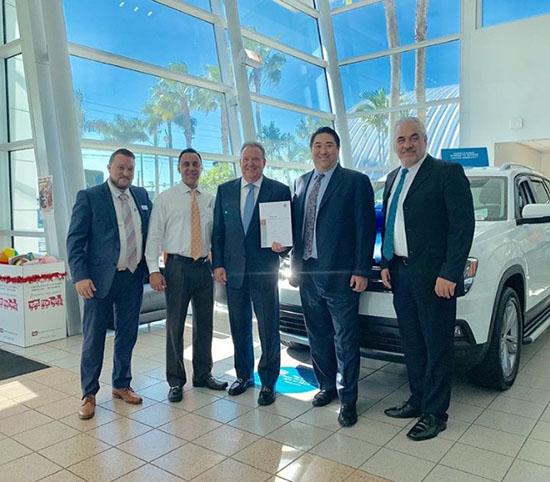 Volkswagen of America Inc. recently awarded Schumacher Volkswagen of West Palm Beach with the Gold Pin Award.
Each year, Volkswagen recognizes the top dealers with the presentation of the Gold Pin Award. Schumacher Volkswagen of West Palm Beach is among the elite class of 16 dealerships in the U.S. to receive the 2018 award. The exclusive award is based on sustained sales performance, overall customer satisfaction, representation of the Volkswagen brand, and the dealer's service and involvement with the surrounding community.
Schumacher Volkswagen of West Palm Beach is a part of a family of auto dealerships, Schumacher Automotive Group, dedicated to customer-centered service with a fully equipped service center staffed by experienced and certified auto care and sales professionals, representing top brands including Dodge, Chrysler, Infiniti, Buick, GMC, Volvo, Chevrolet, Subaru, Mitsubishi, Lincoln, Jeep and Volkswagen.
For more than 40 years, Schumacher has been an organization that people know to be of the highest integrity, providing world-class products and a sincere focus on the customer's ongoing satisfaction.
For more info., visit www.vwofwestpalmbeach.com, call (561) 935-4490 or visit www.schumacherauto.com.