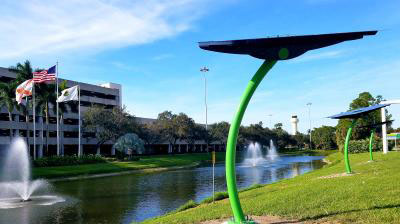 Palm Beach International Airport and Florida Power & Light have partnered to add new innovative solar arrays that will promote sustainability to millions of travelers, while harnessing the power of the sun.
As of this month, PBIA is now home to three solar trees, which are located on the inbound airport access road, Turnage Blvd., just before the parking garage, and a solar canopy is soon to come. The canopy will be in the cell phone waiting lot and will provide shade for 10 parking spaces in the far west lot. These combined 230 solar panels will be producing more than 65 kilowatts of clean, zero-emissions energy. The partnership between FPL and PBIA comes from FPL's SolarNow program.
"The FPL SolarNow program makes a lot of sense, and with the addition of hundreds of solar panels at Palm Beach International Airport, it is an exciting and positive step in the right direction as we work toward decreasing our environmental footprint. In addition to producing clean, zero-emissions energy, the solar canopy in our cell phone lot is a great benefit for our guests waiting on arriving passengers, providing shade and a cooler place to sit," Director of Airports Laura Beebe said. "We think that the solar trees will be an interesting feature for airport visitors, and hopefully, it sparks interest in solar energy."
The FPL SolarNow program is bringing more solar into local communities. Their distinctive design is easily integrated into urban landscapes, providing people an opportunity to see and learn about solar energy up close — something many have never experienced because solar panels are usually located out of sight on rooftops or at universal solar energy centers, like the 14 FPL operates.
"We are excited that Palm Beach International Airport has joined our SolarNow family," said Matt Valle, vice president of FPL Development. "Through this partnership, we have the opportunity to show millions of people who come through this airport that Florida is truly living up to its name as the Sunshine State."