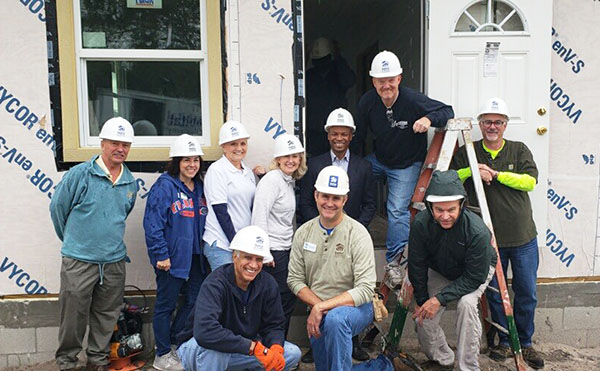 Habitat for Humanity of Palm Beach County (HFHPBC) hosted a diverse team of local business leaders at its first CEO Build of the year on Jan. 31. These local business leaders used hammers and nail guns to underscore their commitment to HFHPBC's mission of building simple, decent, safe, affordable houses for low income, hardworking qualified families in Palm Beach County.
The 809 21st Street project that the local business leaders lent their time to will be home to the Wright family, which includes a hardworking single father trying to provide a better life for his children and is part of an initiative by Habitat for Humanity of Palm Beach County to assist in the revitalization of the Coleman Park, Pleasant City and Historic Northwest neighborhoods of West Palm Beach. The CEOs' tasks included installing siding and building a storage shed to the home which is the seventh "Habitat Hawk" modular home by the Weitz Academy at Seminole Ridge High School in partnership with HFHPBC.
Led by co-chairs of the CEO Build, Naren Gursahaney, former president and CEO of the ADT Corporation, and Jennifer Morton, president of JMorton Planning & Landscape Architecture, these business leaders are doing more than just writing checks. They're giving time out of their extremely busy schedules and contributing their talent to a cause they believe in.
Among the local leaders who participated with Gursahaney and Morton were John Apgar of Iberia Bank, Danny Castro of BDO, Dennis Gallagher of Weitz Construction, Michael Sabatello of Rendina Healthcare Real Estate, Stephen Lawrence of Wells Fargo, and Bernie Godek, Donald Gill and Kerry Colvett of Habitat for Humanity of Palm Beach County.
For more info., call (561) 253-2080 or visit www.habitatpbc.org.