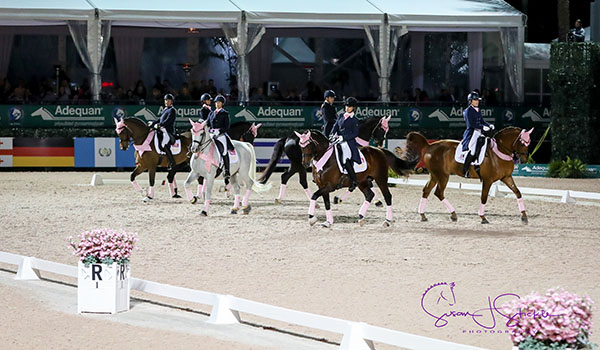 Experience an under-the-lights equestrian extravaganza as horses and riders from around the world dance together to fight breast cancer. It's the Challenge of the Americas (COTA), a spectacular evening of horses and family fun, all to benefit the Breast Cancer Research Foundation through its partner, Play for P.I.N.K.
General admission gates open at 5 p.m. on Friday, March 8 at the Adequan Global Dressage Festival showgrounds on the corner of South Shore Blvd. and Pierson Road in Wellington. Grab some food and beverages available for purchase and enjoy pre-show entertainment as local singer Michael Boone and the Solid Gold Twirlers delight the crowd and agility dogs impress with their canine maneuvers.
General admission ticket holders will have an ideal vantage point in the grandstands to see top show jumpers and their mounts performing choreographed jumping set to music.
The headline event, five team quadrilles starring the dancing horses and their top riders, will begin at 6:15 p.m.
COTA showcases the Olympic sport of dressage and features some of the top international competitors from the United States, Canada, Latin America, Australia and Europe as they maneuver their horses in precise patterns set to a musical theme. Competition is fierce as teams vie for bragging rights as victors of the 16th Challenge of the Americas.
COTA has evolved since its origins in 2002. Created by Mary Ross to honor her mother, who died of breast cancer, the event grew from an afternoon luncheon featuring three horse-and-rider combinations to an international event with 40 Grand Prix riders and their mounts. Its success and continued growth is due not only to its partnership with the top-rated breast cancer organization in the U.S., but to its unique and highly entertaining format.
The beneficiary of the event, Play for P.I.N.K., is a grassroots organization committed to raising funds for breast cancer research through sporting and lifestyle events. In 2018, Play for P.I.N.K. donated $4.75 million to the Breast Cancer Research Foundation and is currently supporting 19 research projects. The Breast Cancer Research Foundation is dedicated in its mission to prevent and cure breast cancer by advancing the world's most promising research.
General admission tickets for the Challenge of the Americas are available at the door for $20, and children 12 and under are free. VIP tickets, available at www.challengeoftheamericas.com, provide the same top-notch entertainment with the bonus of enjoying the elegant Challenge Gala featuring dinner and dancing under the tents at the showgrounds.
Help the Challenge of the Americas #ChallengeBreastCancer and make plans to enjoy an exciting evening of dancing horses and family fun.