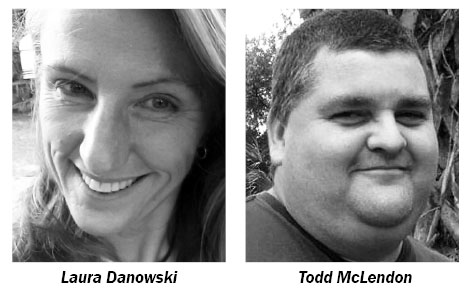 Former Loxahatchee Groves Water Control District Supervisor Laura Danowski is challenging Loxahatchee Groves Vice Mayor Todd McLendon for Seat 2 on the Loxahatchee Groves Town Council. The election for a three-year term will be held on Tuesday, March 12.
Two other seats will be on the ballot. In the special election for a two-year term in Seat 3, Councilwoman Anita Kane, who was appointed to fill a vacancy, is being challenged by Lisa El-Ramey. Seat 4 will be left open by the retirement of Mayor Dave Browning. Residents Robert Shorr and Karen Plante are vying for that seat.
Danowski told the Town-Crier that she has the desire and ability to fix issues that are dividing the town and putting it in turmoil.
Goals foremost in Danowski's mind are to fix drainage and roads.
"Prior to September 2017, regardless of weather or conditions, we had drivable roads," she said. "It's alarming to me that since the district was taken over in June 2018, that it has taken until February 2019 to get a grader and in-house employees to do the work. We need to be able to provide services that we can afford now and going forward, so one of my goals is better management of our money, which includes plans, which includes long-range thinking, and decisions that don't necessarily benefit or heavily burden a select few while other residents don't get what they need."
Danowski also wants to address police service, since the Palm Beach County Sheriff's Office has given notice that it will not renew its contract when it expires in October.
"I sent a letter to Sheriff [Ric] Bradshaw asking if there is anything that he could share with me — remember that I am still a citizen, I'm not an elected official of any type — if there is any insight that he can provide," Danowski said. "His liaison called me back and said, 'We, the sheriff's department, are not addressing anything regarding Loxahatchee Groves until after your election.' That can be interpreted a number of different ways, and I'm not going to speculate on any of them, but that is a primary goal for me."
Danowski said that because the town is being presented with the idea of creating its own police force — or looking elsewhere for police service — she does not support removing the language from the charter that requires the PBSO be in charge of police protection, as stated in a referendum question on the March 12 ballot.
Danowski also has thoughts on the other referendum question, on whether or not the town should be allowed to take out long-term debt, which is currently prohibited in the town charter.
"I will fully disclose that at the candidates' forum," set for Thursday, Feb. 28 at 7 p.m. at Palms West Presbyterian Church, hosted by the Loxahatchee Groves Landowners' Association, she said.
Danowski said she looks forward to working with the town's new manager, Jamie Titcomb, who will take the position on March 18.
"We had a couple of opportunities to exchange a few sentences," she said. "He is our leadership now, and we just need to make it work."
However, Danowski disagreed with the process the council followed in appointing Titcomb. The council bypassed getting requests for proposals and directly hired Titcomb, although the town attorney said it is within the parameters of the council to hire and fire the manager at will.
"I think that was a complete travesty and dismissal of our process," Danowski said. "There was no RFP, there was no equal opportunity, there were no other candidates considered. I do not for one minute believe that this was an emergency decision."
Danowski was an LGWCD supervisor from June 2015 to June 2018 and served several months on the Roadways, Equestrian, Trails & Greenway Advisory Committee. She has a bachelor's degree in journalism from the University of Maryland.
"I am a problem solver and a very good listener, and I'm a very good mediator," Danowski said.
Originally from New York, Danowski has lived in Loxahatchee Groves for 14 years.
McLendon told the Town-Crier that he has fulfilled the campaign promises that he made during his successful election campaign in 2016.
"Every single one of them I accomplished, and there's 15 others that I have accomplished," he said. "I would like that to continue. Your first term, there is a learning curve and a lot to figure out and get adjusted. So, if I think that if I did as many good things as I did in my first term, I'm entitled to move into my second term."
McLendon said his accomplishments include franchise fees for the solid waste contract for commercial businesses.
"That will lower the pressure on the residents for their taxes," he said. "We've adopted a couple of different policies for getting roads improved, to make that a possibility, where before there were no policies in place for that to happen with the town."
He also called for making the LGWCD dependent to the town. "We got that done," McLendon said.
Although it was not a campaign promise, in response to the most recent hurricane, the council adopted an ordinance requiring all future utility lines be buried underground.
"Although that ordinance only affects new utilities, you've got to start somewhere," McLendon said. "That may be many years in the making to see if it has any effect."
McLendon also took part in changing town hall hours to a 10-hour day, four days a week at no extra cost to the town to make it more accessible to residents. He was also able to get a policy adopted that if a resident had long-term code violations, they could have up to a year to come into compliance.
"That helped people who had issues that they had been doing something illegal out here for 20 years and maybe never realized it wasn't legal, and finally code enforcement came after them," he said. "Instead of having 30 days or 60 days to correct something that has been going on for decades, they have up to a year now to do that."
McLendon was also instrumental in strengthening the town's ethics code.
"We had an issue where a developer got turned down, and a council member worked behind the scenes and resurfaced the item at the next meeting, which approved the development, but we had no idea what had taken place. So, we strengthened the ethics code that would prevent that from happening again," McLendon said.
The council also implemented business tax receipts that are in place with other municipalities. "That helps offset the taxes on residents," McLendon said.
He is also proud of a policy change so that the council, rather than the Planning & Zoning Committee, is now the town's Local Planning Agency.
"That was to streamline the process for fixing our codes," he said. "It puts more work on the council, but it helps with the biggest problem with the town right now, which is our codes, and we're trying to get that process moving faster."
McLendon said he also prevented another pay raise for council members.
His goals if re-elected are to fix problems with the town's codes.
"We've got some major problems with our codes," McLendon said. "I was against hiring code enforcement when we did, knowing that we have major issues with our codes, and I said it then, when we were hiring our code officer. I said we're making a mistake. There's a rule book that every sitting council member agrees has major problems. I voted against it, and, unfortunately, every other council member voted to hire code enforcement."