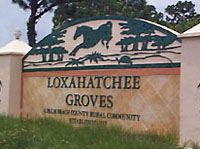 Mary McNicholas with Geoffrey B. Sluggett & Associates, the town's advisor on legislative issues, updated the Loxahatchee Groves Town Council on Tuesday, Feb. 5 regarding the status of several items she is working on.
"I have a couple of really great items that I want to discuss with you," McNicholas said. "First of all, your legislative appropriations were filed on time, actually early yesterday, and State Rep. Matt Willhite has done the four items that you discussed. It starts with North B Road improvements, South D Road improvements, the North Road equestrian trail and two horse crossings on Okeechobee Blvd."
McNicholas said that State Sen. Bobby Powell has agreed to co-sponsor the bills, which will be filed next week.
More importantly, she said that she and planning consultant Jim Fleischmann, Vice Mayor Todd McLendon, engineering consultant Tricia Barr with Simmons & White and lobbyist Geoffrey Sluggett met with Florida Department of Transportation and Palm Beach County Transportation Planning Agency officials to discuss two potential projects. Those officials included TPA Executive Director Nick Uhren, Deputy Director Valerie Neilson and Pedestrian & Bicycle Coordinator Nicholas Hernandez.
Discussion centered on putting a horse trail on Okeechobee Blvd. to connect other horse trails on north/south roads as a transportation alternative project.
"These projects get very detail oriented," McNicholas said. "Everything has to be around an arterial road, which is Okeechobee Blvd. Because we had already talked about priorities being those equestrian crossings, we went ahead and expounded upon that… We discussed trails that actually go down Okeechobee Blvd. and connect in with the trails, or potential development of trails that go north/south. One thing brought up was that we are going to need to start working toward a master plan on that."
McNicholas noted that Wellington has already developed a master plan for equestrian trails. "We're looking at what they have done, and we're trying not to reinvent the wheel," she said. "It was brought up that there might be some other potential avenues in order to pay for that."
McNicholas said the grant must be applied for by March 1 and will need community involvement and resolutions of support by April 3 and May 3.
"It's kind of quickly that we need to be moving on it," McNicholas said. "We would like your approval to start working on it. The team that we talked about was Tricia Barr with Simmons & White. She has an equestrian hunter jumper background, is an engineer and has done quite a few different designs for you, and also has done work in Wellington."
McNicholas also recommended getting Fleischmann involved, as well as Sluggett, who is a member of the Roadways, Equestrian, Trails & Greenway Advisory Committee.
"I'm representing you as your coordinator here," McNicholas said, explaining that the grant program could be for $250,000 to $1 million, and the town has to do the design and engineering portion, but the grant can be used for anything past that.
"The grant cannot be used for something already in place," McNicholas said. "We have trails, but we don't have developed trails. We have rights of way that are designated to become trails… It can be for the bollards, it can be for the signalization, it can be for the material, it can be for small fencing like what Wellington has now that would be next to a road."
McNicholas said they looked at the right-of-way area between the sidewalk and Okeechobee Blvd. roadway.
"That seemed to be a perfect area for trails," McNicholas said. "This type of program would need significant input from the community. It needs significant input from the equestrian community and other residents."
McNicholas pointed out that no matching funds are needed for the potential project.
McLendon said some type of fencing or vegetative barrier would be needed to separate a horse trail from the roadway.
McNicholas said the meeting was to explore the town's eligibility for the grant.
"Eligibility is a huge factor," McNicholas said. "That's why we feel like it's going to take a small team, a little army, so to speak, to put this together and do it in a professional manner… Clearly, this would start promoting the connectivity that you have talked about."
Councilwoman Phillis Maniglia said she favored moving forward with the project, but Councilman Dave DeMarois said he had reservations about developing a horse trail on Okeechobee Blvd.
"There's going to be a danger on Okeechobee Blvd. for horses and riders," DeMarois said. "It doesn't matter what kind of fence you put up. I think we are really opening ourselves up to some big problems if we allow this to go forward."
Town Attorney Michael Cirullo said the town would only be culpable to a lawsuit if it is negligent in setting the design or maintenance.
"If you take on the duty to do something, you've got to do it with reasonable care," Cirullo said. "The actual policy decision on whether to do something like this, you should be OK with."
McNicholas stressed that the grant under consideration must be associated with an arterial road.
"The only roads that include connector or arterial roads are either Southern Blvd. or Okeechobee Blvd.," McNicholas said, reminding the council that it has reduced the speed limit on Okeechobee Blvd.
Fleischmann said the staff members they met with were very positive about the equestrian trail concept. "We have already sort of started that trail by the conditions of approval in the Day property and Big Dog Ranch," Fleischmann said. "We have provisions in both of those site plans for horse trails on their property, so this would help continue that all the way across the town."
McLendon said he sees Okeechobee Blvd. as one of the best places for an equestrian trail.
"That stops it from getting widened, and it will help slow people going down Okeechobee Blvd., and you're going to have two other agencies involved," he said. "You're going to have FDOT and the county looking at it, so I don't think either one of those agencies, let alone us, are going to do something that's unsafe. We're trying to preserve what we have there and enhance it."
DeMarois said he agreed with McLendon's point of view.
McNicholas said the town would have to work with and get permission from the county because it owns the road, although the town has traffic control.
Mayor Dave Browning agreed that horses visible on a trail next to the road would tend to justify the 30-mph speed limit in the minds of motorists who have complained about the speed change.
"There's already a walkway for pedestrians and bikes, so they're in danger from the cars anyway," Browning said. "We've already got the speed limit in place. Anything we can do to help the connectivity for the horse riders, I think is wonderful."
McNicholas said another funding possibility was for projects of $1 million or more, and the meetings included discussion of roundabouts on Okeechobee Blvd., for which FDOT and county officials recommended the town apply for.
Maniglia made a motion to approve up to $25,000 to move forward with efforts to get funding for equestrian trails and roundabouts on Okeechobee Blvd., which carried 5-0.