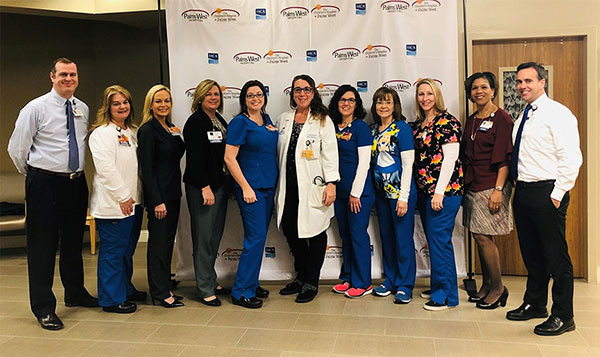 Palms West Hospital recently announced that it has achieved Children's Oncology Group (COG) accreditation. This prestigious milestone is the result of the hard work and dedication of the entire pediatric hematology/oncology team.
The Children's Oncology Group is the world's largest organization devoted exclusively to childhood and adolescent cancer research. Uniting more than 9,000 experts in childhood cancer at more than 200 leading children's hospitals, universities and cancer centers around the world, their goal is to cure all children and adolescents with cancer, reduce the short and long-term complications of cancer treatments, determine the causes of childhood cancer and find ways to prevent it.
"We are extremely pleased about this wonderful partnership," said Caren Bock, director of pediatric services. "This enables us to collaborate with fellow scientists and medical staff across the globe to develop, discover, and provide advanced treatment options for our patients, as well as offer participation in the latest clinical trials."
More than 90 percent of the 14,000 children and adolescents diagnosed each year with cancer in the U.S. are cared for at a Children's Oncology Group member institution. This number doesn't include the adolescents and young adults (up to age 30) who are statistically proven to have better cure rates when treated by pediatric oncologists on COG protocols as well. With nearly 100 active clinical trials open at any given time, the COG's studies are determined to find the underlying biology of childhood cancer diseases, involving new and emerging treatments, supportive care and survivorship.
Palms West Hospital is proud to serve the community and offers all the pediatric subspecialists needed to take care of these patients, alongside the dedicated nurses and staff.
"I am so proud of our pediatric oncology team," said Josh DeTillio, CEO of Palms West Hospital. "Earning the COG accreditation is a true testament of our teams' commitment to provide our community with the best care. With this accreditation, our hospital can now offer the most advanced clinical trials to our most precious patients."