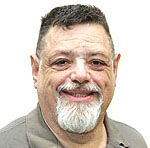 'I' ON CULTURE
People born much past my generation have forgotten the wonderful team of Stanley Laurel and Oliver Hardy. They were masters of film, both silent and talkies. Unlike many others of the earlier generation, they had poetry between them. But as the charming movie Stan & Ollie shows, there was a lot of anger there as well. That might have been because British-born Laurel learned his craft from Fred Karno, better known for his training of Charlie Chaplin.
They became the top comedy team in the movies all through the Great Depression era, making more than 100 mostly short films in that time. But, eventually, they faded and were replaced by Abbott and Costello, and later Dean Martin and Jerry Lewis, whose acts closely resembled theirs. The main element was having two performers, one of whom drove the other nuts. In this case, both men got on each other's nerves, not only onscreen but in real life.
The film's director Jon S. Baird is particularly interested in the twists and turns of the relationship between Laurel (Steve Coogan) and Hardy (John C. Reilly), two really different personalities who clashed in many ways from their start back in the late 1920s when they began their work. Georgia-born chubby Hardy is a gambler and womanizer, far happier away from the studio and perpetually on the edge of trouble. British born Laurel is a constant worker, always trying to improve the work, forcing more takes and frustrating Hardy. Both of the men were difficult; each married several times.
My friend Steve Rubin, a psychologist, compares the relationship to a bad marriage. The two men were, and still are, always mentioned in the same breath. While staying together for more than a quarter century, each managed to have several wives during that time period. Their longest-lasting relationship was with each other, and they needed to stay together to keep working. Like all comic duos, their onscreen humor is focused on frustration and anger. Much of today's humor is like that. Note that in television's biggest hit comedy The Big Bang Theory, Sheldon is absolutely impossible. The original premise was to have him and a sidekick living next to a "normal person." Of course, most of the people around him had to be more or less crazy to keep the relationships going. No sane person would want to be anywhere near him. That worked as well with Laurel and Hardy.
Although early moments of their relationship are shown, the main focus is on a tour done at the end of their careers in England in the early 1950s. Their careers are stalled, they need money and are brought together for the live tour to rebuild their professional relationship. They are known for their simple gestures, Laurel lifting his hat and scratching his head, Hardy for constantly fiddling with his tie. But the collaboration involved a lot of physical slapstick. Hardy is not well at all, and some of the work they do involves complex dancing which might prove dangerous.
However, there are newer players in the mix as well. Their current wives, Ida Laurel (Nina Arianda) and Lucille Hardy (Shirley Henderson), are ferocious partisans. A key scene is a bridge game with all four main characters that becomes a vicious blame game as both women go off on each other in defense of their husbands. The two men are just too different from each other. Things begin to fall apart backstage, but after a shaky start, the magic reappears when they are on stage. But to quote Laurel, "This is another mess you got us into." But the messes on film were solved, and the ones off-screen were not.
The acting is superb. Both Coogan and Reilly really seem to inhabit these parts. They, thanks to expert makeup, look just like the two actors and have their gestures down pat. It is more than simply a look and taking up minor gestures. They have everything exactly right and have to be perfect. One element of the film is looking at what seems to be old movies of the pair, and it takes a moment to realize that we are not seeing the real film, but a faithful re-creation. It must have been excruciatingly difficult to be so perfect. And they are. Coogan and Reilly reach brilliant heights. It is a shame neither was nominated for an Oscar. They deserve nominations.
This is a charming, fun movie and one I can wholeheartedly recommend.