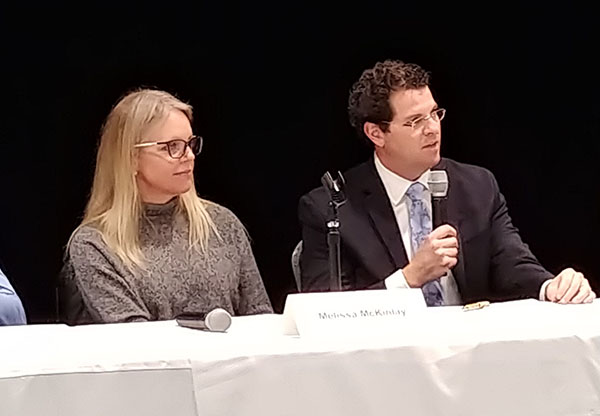 Roads, traffic, gunfire in the community and mom-and-pop businesses that have evolved into large commercial operations were issues brought up by residents at a town hall meeting Tuesday, Jan. 29 organized by County Commissioner Melissa McKinlay at the Wellington Community Center.
"I do my best to do meetings at different locations throughout the district," said McKinlay, who represents the western-area District 6. "This is our first of three different town hall meetings. We're also doing one next month in The Acreage, and in early March, we'll be doing one in Belle Glade."
Palm Beach County Planning, Zoning & Building Director Ramsay Bulkeley said one of the biggest issues in his department has been extensive growth in the western communities.
"The more people who come out west, the more calls we get, because of more properties that they see that they don't particularly like, and these may be properties that have been contractors' storage yards for 20 years and never bothered anyone, but now sometimes you drive down the street, and they call us and say, 'Hey, this guy's got 20 tractors there,'" Bulkeley said. "Technically, you're not supposed to do that, but it had been unseen. Now it's reported, and now we have to deal with it. A lot of these are coming to light, particularly landscape services."
Bulkeley said many of them started as small services with one truck and one employee but have grown over the years into big operations.
"Code enforcement goes out and tells them they can't be there," Bulkeley said. "Guess where they go? They start moving around. That's become quite a big issue right now. It's a big industry that we're dealing with."
Bulkeley said his department has been trying to balance the property rights of individuals in residential areas with commercial enterprises that aren't supposed to be there.
"We also don't want to put people out of business. However, I think we are creative enough to come to some sort of compromise to make that work," Bulkeley said. "We have rules in place that allow limited home occupations, which essentially means you can have a home occupation, as long as you don't bother your neighbors."
Nurseries, contractor storage yards and general growth out west are big issues, and his department wants to be sure that the growth is done correctly.
A Heritage Farms resident said her neighborhood has more than a dozen landscape services and nurseries with as many as 200 trucks each entering and leaving the community.
Bulkeley said most of them have been cited by the county and will face the special magistrate.
"All of them except one or two have been found in violation," Bulkeley said. "Come the end of February, they will be fined $250 a day. Several of them have moved out. Others have hired attorneys and are trying to come into some sort of compliance."
The same resident added that she has an issue with gunfire in the neighborhood, often at night, but has been told by the Palm Beach County Sheriff's Office that it is legal until a bullet leaves the property.
Assistant County Administrator Todd Bonlarron said the Florida Legislature passed a statute that makes the state the controlling body for firearms regulations.
"They passed legislation that literally made it a crime for a board of county commissioners or local governing body to regulate gun use in their community," Bonlarron said.
He explained that Palm Beach County had to repeal several ordinances banning guns in government buildings, or government officials would be held personally liable and face possible jail time.
"The issue of firearms in your back yard, in residential areas, they've been back and forth in the legislature, but there are certainly locations, and it sounds like what you are describing is legal, and it's something that the legislature allows to happen," Bonlarron said, adding that the county could work with her to get her in contact with legislators who might listen to her complaint.
PBSO Major Eric Coleman said the gun issue affects all areas with lots larger than an acre, including The Acreage and Loxahatchee Groves.
"It's very frustrating to the officers because… there is information that tells us they are under the influence of alcohol, or that those rounds are leaving their property, where our hands are really tied," Coleman said, explaining that the county seven years ago had an ordinance that prohibited such gunfire anywhere east of 20-Mile Bend that had to be repealed at the behest of the Florida Legislature.
McKinlay said the gun law was one of the first bills that former Gov. Rick Scott signed into law in 2011 when he took office.
Another resident said she does a lot of business in the western communities and wondered when the county was going to four-lane Okeechobee Blvd. west of Crestwood Blvd. and why the speed limit is now 30 mph, which creates bottlenecks in the morning rush hour, she said.
McKinlay said that portion of Okeechobee Blvd. is located in Loxahatchee Groves, which has traffic control over the road and passed the 30-mph ordinance. The town has also fought making the road four lanes.
"The county strongly objected to the reduction of the speed limit on that road, but the town is within its rights," McKinlay said.
Palm Beach County Engineer David Ricks said the county must work with Loxahatchee Groves to widen Okeechobee Blvd. but added that there are other road projects planned in the western communities intended to alleviate traffic problems in that area.
"State Road 7 is a major project," Ricks said. "It was out for bid last spring. About a month after the award, West Palm Beach elected to file a lawsuit against the permits for the drainage for that project. That protest is up in court, so we're waiting for a formal hearing on those permits. Right now, State Road 7 is on hold as we speak."
Ricks added that there is a section of Lyons Road south of Southern Blvd. that has not been connected that will remain on hold until SR 7 reaches capacity, but there is a section of Lyons Road from the L-14 Canal to Lake Worth Road that will be up for construction this summer, a $14 million project that will expand it from two to four lanes, as well as another $4 million four-lane project.
There are other projects planned for Royal Palm Beach Blvd., as well as Seminole Pratt Whitney Road and Northlake Blvd. and Orange Blvd to Northlake Blvd.
"Those projects on Seminole Pratt Whitney will be under construction later this summer," Ricks said. "Overall, for this district, we've got $45 million worth of projects this year and next year."
Another town hall meeting organized by McKinlay's office will be held Wednesday, Feb. 13 at 6:30 p.m. at The Acreage branch library (15801 Orange Blvd.). For more info., contact Kelley Burke at (561) 355-2206 or kburke@pbcgov.org.