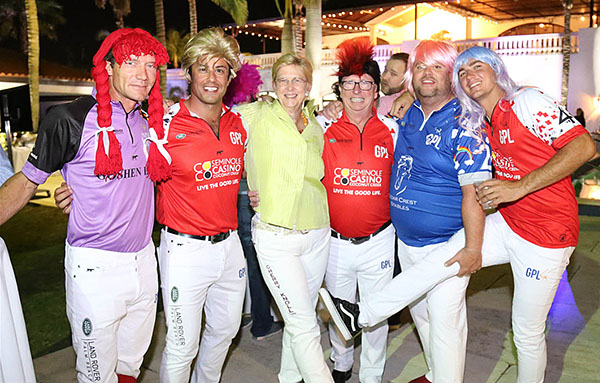 The 10th annual Land Rover Palm Beach International Gay Polo Tournament, presented by RSM US, gallops back to the social scene April 4-7, to be hosted once again at the International Polo Club Palm Beach in Wellington.
As Gay Polo League (GPL) festivities get underway, the "GPL Polotini Presents Wigstock" party on Friday, April 5 is the place to be.
Wigstock is a rousing, poolside cocktail party with food stations, a full bar and electrifying entertainment, featuring Michael Dean as Cher and Velvet Lenore as Donna Summer. As GPL has become a platform for human rights, the April 5 party will serve as a fundraiser for SAGE, with the net proceeds from ticket sales and the silent auction donated to the LGBT organization. Wigs are encouraged — the wilder and wackier the better!
For 40 years, SAGE has worked tirelessly on behalf of LGBT older adults. Building off the momentum of the Stonewall uprising and the emerging LGBT civil rights movement, a group of activists came together to ensure that LGBT older adults could age with respect and dignity. SAGE is more than just an organization, it's a movement of loving, caring activists, dedicated to providing advocacy, services and support to older members of the LGBT community.
"It's the right thing to do," said Chip McKenney, founder of GPL. "LGBT elders fought — and still fight — for our rights. This is a way to give back and honor their heroic efforts in trying to level the playing field for LGBT. We wouldn't be here today, playing polo, if not for their determination and strength."
Tickets for "GPL Polotini Presents Wigstock" are $125 per person and can be purchased at www.gaypolo.com/tickets, along with tickets for all of the 10th annual International Gay Polo Tournament events and festivities. For information about sponsorships, contact Chip McKenney at chip@gaypolo.com.