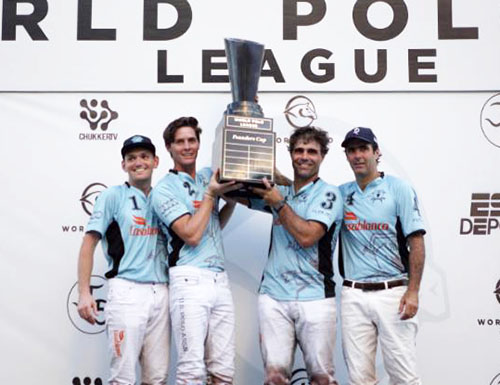 Grand Champions knocked off powerhouse Valiente 12-11 in overtime to win the World Polo League Founders Cup on Sunday, March 3 at Valiente Polo Farm.
In front of an overflow crowd, Argentine 10-goaler Juan Martin Nero scored the winning goal in the first two minutes of overtime to upset previously unbeaten Valiente (Bob Jornayvaz, Agustin Nero, Santi Torres and Adolfo Cambiaso).
Playing together for the first time in the WPL's second tournament of the season, Grand Champions finished the eight-team, 26-goal tournament undefeated at 4-0.
Nero and teammates Rodrigo Andrade, Grant Ganzi and Juancito Bollini earned $60,000 in prize money.
"I don't know what happened, they say that we won," joked Nero, named the tournament's Most Valuable Player.
Nero also earned the Catena Watch Play of the Day for his game-winner. Andrade was selected Tato's Game MVP.
"This is huge for us," Nero said. "This is the first tournament we played together, and we won. The game was really good, it was open. We had a lot of fun."
The stunning victory marked a successful 26-goal final debut of longtime friends and teammates Grant Ganzi, 20, and Juancito Bollini, 22. "I am at a loss for words, I can't describe it, this is insane," Ganzi said. "This is a huge upset. The last time Adolfo lost at this level other than last year's U.S. Open final was a long time ago."
Valiente opened with a 3-0 lead on handicap and extended it to 5-0 early in the first chukker. With Valiente leading 7-3, Grand Champions clawed its way back, scoring five unanswered goals in the third and fourth chukkers to take an 8-7 lead on Ganzi's goal run. The game was tied four times before Nero's heroics.