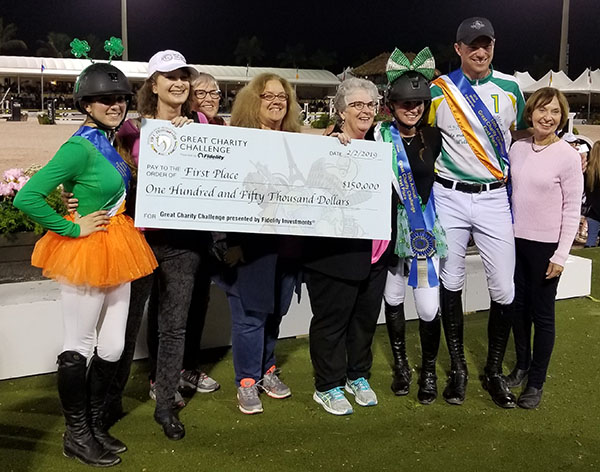 Holy Ground PBC's budget recently received a welcome boost, thanks to a team of superb equestrian riders — and perhaps a wee bit of the luck o' the Irish.
At the Great Charity Challenge on Feb. 2, the riding team of Carly Dvorkin, Madelyn Ruskin and David Blake, dressed in the colors of Ireland, their theme country for the evening, turned in a flawless run and won first place in the competition, held at the Palm Beach International Equestrian Center in Wellington.
The charity they were competing for, Holy Ground PBC, was awarded the grand prize of $150,000. The funds, which just arrived in Holy Ground's account, will be used to bolster the nonprofit's financial security.
"We will use this amazing windfall to pay off the last of the loan we borrowed to purchase our residential campus last year, which will be such a blessing," Executive Director Phyllis Turner Jepson said. "In addition, we will be able to establish a reserve account and create childcare and transportation funds to better serve our clients."
Holy Ground PBC shelters and mentors homeless pregnant or parenting young mothers in Palm Beach County who are willing to make positive changes in their lives.
"This Great Charity Challenge grant is a wonderful gift for us," Jepson said. "Our goal is to transform the lives of our clients during their progress through our long-term program. The on-going costs of changing so many young lives are considerable."
The nonprofit makes a long-term commitment to work with each mother to achieve independent living, a stable family situation and lasting generational change.
In 2018, the organization opened its first residential apartment complex, the Stockard Family Campus, in West Palm Beach. Holy Ground also leases an apartment building in Lake Park.