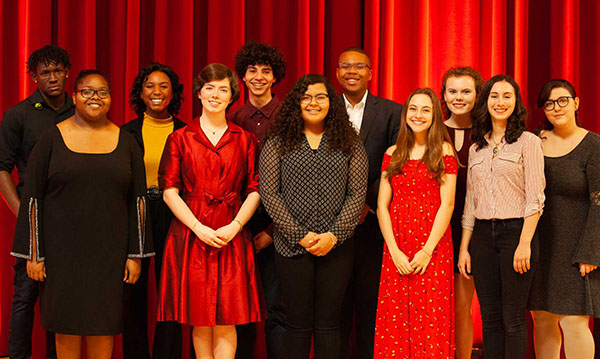 The Alan Lebow Award for Excellence in Shakespearean Performance celebrated its 10th year on Jan. 26 in the Kravis Center's Khoury Family Dance Rehearsal Hall. Awards were presented to 11 Palm Beach County students from seven local high schools.
Sponsored by Kids' Dreams Inc., in memory of its co-founder, Alan Lebow, the award program engages students from Title I high schools and provides the opportunity for them to perform short selections from William Shakespeare's works before a panel of distinguished judges. The student adjudication took place on Jan. 12, at which they performed their selected work and were evaluated and scored by three judges.
The two top winners, each earning a $1,000 cash prize, were Morgan Kennedy, a senior at Boynton Beach High School, and Ciara LaTouche, a senior at Royal Palm Beach High School. Kennedy was a top winner for a second year in a row. She performed a monologue from Henry VI, and LaTouche performed one from The Tempest.
Four students earned honorable mention awards and $500 each: Anthony Mora, a senior at Royal Palm Beach High School; Richael Matute, a sophomore at Forest Hill High School; Jasmyn Mann, a senior at Glades Central High School; and Elianah Esquenazi, a junior at Santaluces High School. Five other students received recognition as distinguished participants and earned $200 each. A total of $5,000 was given to the top 11 winners.
Judith Mitchell, CEO of the Kravis Center, welcomed guests to the Lebow Award ceremony and recognized Patricia Lebow, president and co-founder of Kids' Dreams, for her commitment to providing arts opportunities for children in the community. In 2015, Kids' Dreams made a gift to the Kravis Center to permanently endow the Lebow Award.
"I am pleased to honor the accomplishments of the 2019 Alan Lebow Award recipients," Mitchell said. "This program would not be possible without the support of Kids' Dreams. We also acknowledge the dedication and commitment of the high school teachers. Without their guidance and support, the students would not be prepared to participate in this outstanding program."
Palm Beach State College President Ava Parker gave the keynote address, and after the ceremony, the students were invited to attend a performance of A Midsummer Night's Dream produced by Aquila Theatre Company in the Kravis Center's Rinker Playhouse.