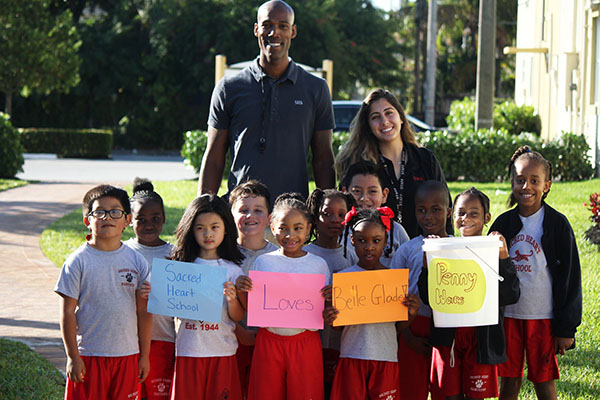 When the Sacred Heart School children heard the story about children in Belle Glade attending their after-school program in a dilapidated, 1940s building, they were ready to help. To date, Sacred Heart children have raised $2,707.44 to help fund the rebuilding of the First Haitian Baptist Church Children's Development Center in Belle Glade.
The children learned about the development center through Sacred Heart School Principal Candace Tamposi and the school's Grandmother of the Year Nancy Marshall, both members of the Sovereign Order of St. John of Jerusalem Hospitaller, Palm Beach Commandery, an ecumenical organization that is focusing its fundraising efforts to help build a new center for the Belle Glade children.
This past fall, Sacred Heart School students in the fourth and seventh grade donated their photographs for an auction, held at a reception in a private Palm Beach home, which raised $2,005. The photographs were taken at the Arthur R. Marshall Loxahatchee National Wildlife Refuge as part of "The Everglades: Through the Eyes of Children" photo project.
During December, middle school children raised $400 for the Belle Glade project from their Christmas store. The middle school students acquired a loan from the school office to buy Christmas items for gifts. They did a marketing plan, created commercials to advertise it and created posters. They sold the items in their classroom store, paid back the loan and donated $400 to the Belle Glade project. "I was surprised to see the ingenuity and determination the students gave for this project," said Rocio Shaw, the middle school literature and special needs resource teacher.
In January, the entire school completed a penny drive for Catholic School Week and selected to give the money to the Belle Glade Project, raising $302.44.
"We love that children are helping other children," Tamposi said. "It is an important lesson in caring and supporting others in need."