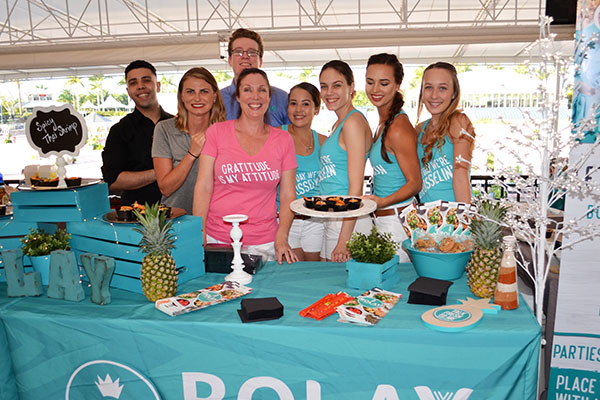 The Flavors Wellington Food & Wine Festival, hosted by the Wellington Chamber of Commerce, will return for its 16th year on Friday, April 12 from 6:30 to 9:30 p.m.
The ticketed event brings in celebrity chefs and judges for an evening of music and entertainment celebrating Wellington-area restaurants and caterers. It will be held at the Palm Beach International Equestrian Center, located at 3400 Equestrian Club Road in Wellington.
Wellington Chamber Executive Director Michela Green is excited for the return of Flavors. "This event brings everyone together for an end-of-the-season event," Green said. "Our exhibitors can make connections for the spring and summer, and our attendees can plan exceptional dining adventures right here in Wellington."
With 30 vendors registered, the festival has something for all palates. Exhibitors include: An Edge on Thyme, Don Chepo's Taco Shop, Ford's Garage, the Hurricane Dockside Grill, Lemongrass Asian Bistro, New York Sandwich Company, NVE Beverages, Starbucks Coffee, Jersey Mike's Subs, Q'Salsas Latin Bar & Grill, the Trophy Room, the Wanderers Club, Wasted Time Brewing, Wellington Trace Tavern, the Beauty and the Beeeef, and Stonewood Grill & Tavern. Romeo's Italian Restaurant and Bolay Wellington, which snagged last year's awards for best cocktail and best dessert, are returning to the festival as well.
Additional vendors include the International Polo Club Palm Beach, the Wycliffe Golf & Country Club, the Wellington National Golf Club, Trader Joe's, Costco Wholesale, Jake's Pet Supply, Seaview Imports and Royal Palm Events at Madison Green, along with specialty vendors CJR Fine Arts & Frame, Master Travel & Cruises and Sarah Spiritual Live Psychic Readings.
The food competition features five different categories: taste, plate presentation, dessert, display and cocktail. The winners are chosen by special guest judges touting many credentials. Dignitaries on the panel include Wellington Mayor Anne Gerwig and newly inducted Wellington Chamber President Stuart Hack. Special guest chefs include the International Polo Club's Executive Banquet Chef Chris Gallaudet, who brings 17 years of culinary experience to the table, while Sean McHugh, Whitehorse Catering's executive chef, is a part of the Winter Equestrian Festival and brings an appreciation of creative plating to the panel.
Foodies also sharing the responsibility of choosing the winners are two South Florida food and lifestyle influencers, Gwen Gottlieb and Taylor Morgan. Morgan is the CEO and founder of www.localdines.com. Rounding out the panel is guest judge Jan Norris, a local writer and the former food editor at The Palm Beach Post.
Aside from the food, guests also will enjoy a special performance of dueling pianos by "The Piano Guys" Steve Kaplan and Terry "T.C." Cooper.
"These two incredibly talented musicians, accomplished pianists and stellar vocalists have joined forces to create a high-energy dueling piano show," Green explained.
A bonus for guests is the laser light show by Liquid Sky. The show includes a uniquely interactive component.
"Liquid Sky showcases our sponsors and exhibitors throughout the evening via scrolling laser texts, as well as allows attendees to send messages to one another," Green said.
The packages for both exhibitors and sponsors are already sold out, and the event is expected to sell out of tickets as well.
Guests can reserve a spot for $35 each, $55 per couple or $300 for a VIP table that seats six. Tickets can be purchased through the Wellington Chamber's web site at www.wellingtonchamber.com on the events page, or by calling (561) 792-6525 for more information.