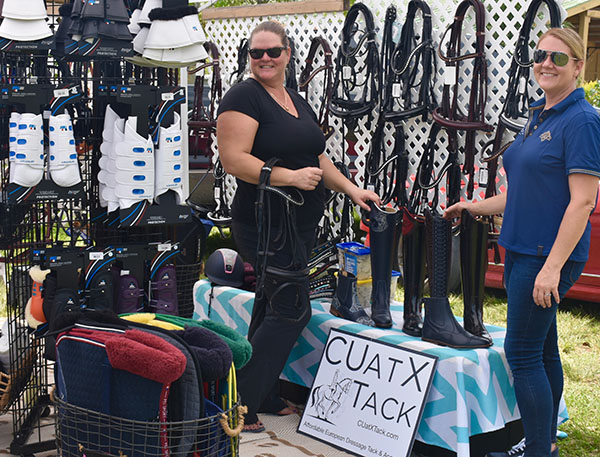 When two sisters get together and share their life's passion, wonderful things can happen — especially if it involves horses. For siblings Sarah and Katie Hoog, this has meant taking sisterhood to a new, entrepreneurial level.
Two years ago, the pair launched CUatX Tack, and after plenty of hard work and a lot of fun, are now celebrating where it all began at the White Fences Equestrian Center in Loxahatchee.
Katie Hoog explained that they originally got the idea to launch CUatX as an online store for European dressage tack and apparel because their own experience pointed out a need within the dressage community.
"We had shopped in Europe our whole lives for tack, and that's where we had to go to get most of our gear because it becomes unaffordable once it's imported here and the price doubles," she explained. "We made a point to go direct to the manufacturer to bring the best that Europe has to offer at the same prices because dressage is expensive enough, and we'd like to keep it affordable."
Sarah Hoog agreed. "We both know how expensive the sport is, and we do what we can to keep it affordable," she said. "We're very passionate about the products we sell because we use everything every day."
Sarah added that in addition to knowing the tack, it's also very important to maintain integrity regarding apparel. "We are incredibly honest with what we are selling," she said. "We want to make sure it looks great on you because that reflects well on us."
The Hoog sisters' business ethics and policies are definitely doing the trick and delighting customers. This was reflected during the two-year celebration party at White Fences. The event was extra special with champagne, cake and a raffle with prizes including saddle pads, bridles, spurs and more. The fun allowed for reflection on how far the business has come.
What started out with just a small, borrowed tent at a single horse show has now grown into a beautiful trailer and several large tents that can be seen at the Adequan Global Dressage Festival and the USDF dressage regionals and finals as well.
"We're going on the road to the USDF Dressage Region 3 Championships and the finals at the Kentucky Horse Park," Katie said. "And we're available for trunk shows around Florida and in Georgia, so any horse shows that would like us to come, just send us a line."
For more information about CUatX Tack, visit www.cuatxtack.com or e-mail info@cuatxtack.com.