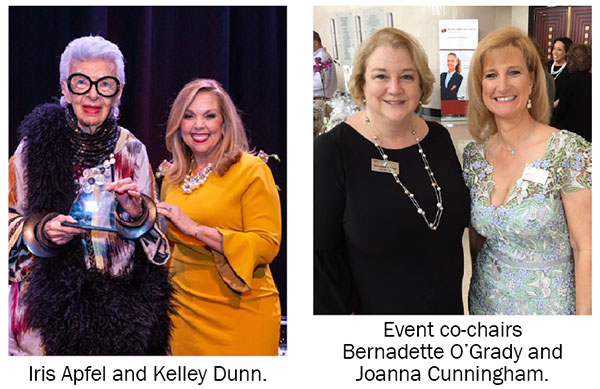 Iris Apfel was awarded Dress for Success Palm Beaches' newly created Style Icon Award last month, wowing the record-setting crowd of 530 guests at the nonprofit's sixth annual Style for Hope fundraising luncheon at the Kravis Center in an on-stage conversation with emcee Kelley Dunn of WPTV.
Apfel, herself, admitted she was wowed by all that DFSPB does to empower women. A few weeks prior, she had visited the organization's boutique and saw firsthand the extensive offering of head-to-toe clothes and accessories, met a few of the clients preparing for their job interviews, and joined volunteer personal shoppers in helping those women find the perfect finishing touches for their outfits while providing an added boost of confidence.
"There's no more appropriate and deserving recipient of our inaugural Style Icon Award than Iris Apfel," said Bernadette O'Grady, a co-chair of the event. "She is the perfect embodiment of Dress for Success — always distinctively dressed, a role model in building a successful business career, and perennially inspirational. She brought down the house with her candid observations and humorous anecdotes from a 97-year life well-lived."
Also having a strong impact on the audience was Heidi Methany, a recent DFSPB client who completed one of the organization's intensive job readiness programs, New Directions. In her speech, she explained how she had become a prescription drug abuser following a debilitating illness and that it led to her becoming homeless. She also credited DFSPB and the ongoing support from its volunteer mentors with helping her accept the challenges of a recent breast cancer diagnosis.
Longtime volunteer and former board member Nicole Parcheta was honored for her years of contribution as the chair of the organization's annual Shop for Success Pop-Up flash sale each year.