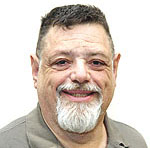 'I' ON CULTURE
There's a new mini-series on FX that is a bit different and a pleasure to watch: Fosse/Verdon. It focuses on the strange, destructive marriage of two very creative people with the added spice of seeing some of the work they actually did. It can be seen Tuesday nights at 10 p.m. on FX (and can be caught up with On Demand).
Bob Fosse was a brilliant choreographer. His flashy style, memorialized in Cabaret and Chicago typified a generation. In one short span, three of his films, Cabaret, Lenny and All That Jazz came out and were nominated for Oscars (he won for Cabaret). His style was the style for a generation. But for all that, he was a classic sexual predator, a user, a man who betrayed his wife and almost every other woman he met. And his wife, Gwen Verdon, was his enabler. She was the person who "talked Fosse," who could explain what he wanted, who could use charm to get past the anger his behavior brought.
She was also the top Broadway dancer of her generation. After coming to Broadway's attention in a key part in Can Can, she became a star as Lola in Damn Yankees ("Whatever Lola Wants, Lola Gets"). For those interested, she also did the movie, and there actually is a clip of her dancing with Fosse in it. She went on to star in Redhead, Sweet Charity and the original production of Chicago, as well as several other shows, often winning the Tony Award. But she spent a lot of the time that might have been used to build a career helping her husband. A private note: a lot of the story was presented by Fosse himself in All That Jazz.
The first episode begins with the filming of Sweet Charity, a project that turned into a disaster. Unlike typical musicals, it was very dark. Charity was a "dance hall girl," one step up from a hooker. Also, the play had been a Verdon showpiece, and she had been replaced by Shirley MacLaine. But Verdon assisted Fosse all the way and watched as the project went down the tubes. Fosse then went to the producers of Cabaret and begged his way into the director's job. He was as difficult there as he had been before, but Verdon did her part to assist, including flying to Paris where some of the film was shot and then doing a roundtrip flight back to find just the right "pretty" gorilla suit costume for use in one of the numbers.
Still, according to the publicity, this will be a tale of Fosse's destruction of women. Verdon was just the best known, the closest to him. And through all of this, there is the taste of genius, brilliance wasted. Verdon was actually his third wife and was in it for the long haul. They separated after he began living with dancer Ann Reinking but never divorced, although Fosse lived for another 16 years.
Sam Rockwell is exceptionally good as Fosse. Thanks to great makeup, he actually looks a lot like the man. Fosse was skinny, balding (his regular use of hats for his dancers came from his phobia about losing his hair), a chain smoker and a chronic philanderer. It was no secret on Broadway that he expected his dancers to be available for more personal use. Yet women flocked to him. And Rockwell carries it off.
Michelle Williams is also brilliant as Verdon. Her tragedy, falling in love with the wrong man, even though professionally he was brilliant, cut her career short. She won four Tony Awards and was nominated for two more. But, as demonstrated in the show so far, she was ready to not work in order to help Fosse. He returned the favor by sleeping with just about any other woman when she was not around.
What makes the show so interesting is its willingness to accept both sides of both of its leads. Fosse was a genius and a predator. He treated Verdon badly. And she was his enabler, giving up a real part of her future to help the man who kept hurting her. Why did she do it? Why did she accept that? We have to wait and see.
I certainly plan to do so. The flashes of show business mixed with the absorbing drama make this a great show to watch.