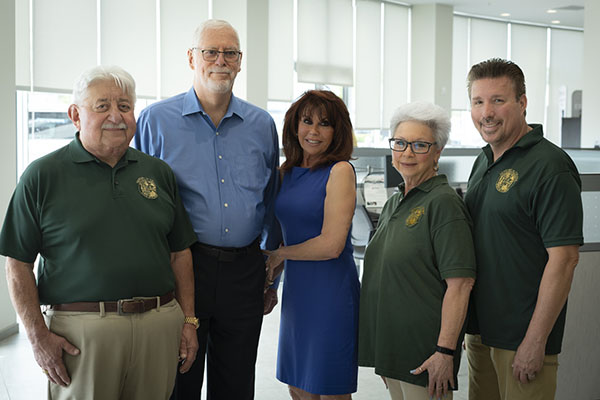 Seniors vs. Crime, a special project of the Florida Attorney General's Office, will present a free public seminar to educate senior citizens on how they can prevent being victimized when buying, leasing or maintaining their vehicle. The program will be on Thursday, April 25 at 2 p.m. at 900 Brandywine Road in West Palm Beach, at the Gathering Place on the United Methodist Church of the Palm Beaches campus.
Earl and Nancy Stewart will be the featured speakers. The first 500 attendees will receive a free copy of Earl Stewart's book Confessions of a Recovering Car Dealer. He is the owner of Earl Stewart Toyota in North Palm Beach. Light refreshments will be served following the program.
Topics to be covered include how to avoid tricks and scams when buying or leasing a vehicle, how to determine if buying or leasing is the best option, what to look for in a qualified mechanic or body shop, what vehicle safety options are helpful for senior drivers, how to get the most money for a trade-in, information on extended warranties, how to shop for the best financing and more. Attendees can submit questions ahead of time to earl@earloncars.com with "Seniors vs. Crime" in the subject line, or text questions to (772) 497-6530. Reserve a seat by calling (561) 844-3461 or by e-mailing sandyv@estoyota.com. Reservations are encouraged but not required.
"We're pleased to offer local seniors the opportunity to learn how to avoid being ripped off when buying or maintaining their vehicle," said Tony Zappone, a member of the Palm Beach County Seniors vs. Crime organization. "Crime prevention is our key mission, and to help seniors avoid these costly mistakes is important because investing in a vehicle and maintaining it are among the biggest expenses of our age group, and an area where many are most at risk."
The program site at 900 Brandywine Road is located just west of the I-95 interchange with Palm Beach Lakes Blvd.
The Seniors vs. Crime Project is sponsored by the Attorney General to reinforce the message of crime prevention and to provide methods by which Florida's senior population can be alerted to consumer fraud, con games and other criminal acts.
The program has more than 2,000 volunteers staffing 44 local offices throughout Florida. For more information, visit www.seniorsvscrime.com or call (800) 203-3099.