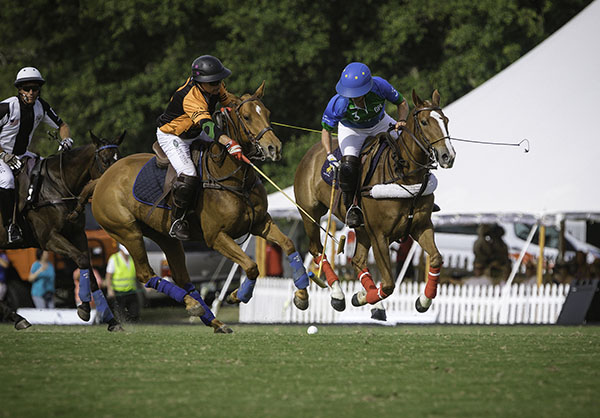 The 10th annual Land Rover Palm Beach International Gay Polo Tournament, presented by RSM US, was a rousing success. Attendees on Saturday, April 6 at the International Polo Club Palm Beach enjoyed a day filled with frivolity, fun, fanciful attire, and fancy footwork by ponies and party people alike.
Polo ponies galloped down the field, champagne corks were popped on the sidelines and fierce competition — both on the field, and off for the renowned tailgate contest — was second to none. High-flying mallets swung by players of all skill levels carried the day, and a spirit of inclusion helped to even the scores. On a day that applauded good sportsmanship and, more importantly, love, diversity, inclusion and equality, everyone was a winner.
Team RSM US took the top Senator's Cup trophy with the Best Playing Pony awarded going to Peli, owned by Joey Casey of the Palm City Polo Club, and the MVP honors going to Bruce Schreiber. Goshen Hill picked up the Founder's Cup trophy with Chip McKenney named MVP. The Future's Cup winner was the Palm City Polo Club with Pete Grover as MVP.
Fun and games continued with the tailgate awards. Top honors went to the GPL Yacht Club for Best Tailgate; Flamingo was recognized as having the Best Spirit; Land Rover Palm Beach won Best Corporate Tailgate; and Best in Show accolades went to Seminole Casino Coconut Creek.
The Gay Polo League (GPL) celebrated the 10th anniversary of its unique polo event this year, and expectations were high to make it memorable.
As GPL is a platform for human rights, the "GPL Polotini Presents Wigstock" kickoff party on Friday, April 5 was a fundraiser for SAGE, the nation's oldest and largest organization dedicated to serving and advocating for lesbian, gay, bisexual and transgender (LGBT) elders.
GPL is the only LGBTQ-identified polo league in the world. Since its founding in 2006, GPL has built an international network of LGBTQ polo players and enthusiasts in 13 countries. The league embraces a cross-section of ages, abilities, professions, and riding experience. Through its enthusiasm for the sport, the league works to foster positive perceptions about gay athletes and the LGBTQ community. The focus is to provide the LGBTQ community with opportunities to learn how to play polo and successfully compete in tournaments and events. In 2017, GPL became a nonprofit, tax-exempt organization. This designation enables the league to use its events to benefit others and raise much-needed funds for programs aimed at helping those within the LGBTQ community. Learn more at www.gaypolo.com.