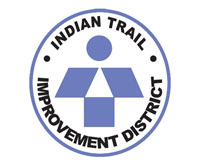 The Indian Trail Improvement District's first effort at a scheduled broadcast of its new Americans with Disabilities Act-friendly meeting with closed captions was held Wednesday night. It is part of a program that includes an ADA-compliant web site.
While the work has been underway, previous videos have been removed from the web site until they can be made ADA-compliant.
ITID President Betty Argue said that the district has been working since October to make its web site ADA-compliant in light of what supervisors learned at the Florida Association of Special Districts annual conference last summer.
"What we discovered was there were many concerns about ADA compliance, something that we weren't aware of," Argue told the Town-Crier on Tuesday. "There were requirements that we needed to meet, so it was a new issue and something that we needed to [address]."
The information came at a time when ITID was already planning web site upgrades.
"We already needed to overhaul our web site, but in doing that, we needed to factor in what we needed to do to be ADA-compliant," Argue said. "We embarked on discussions and shopping for providers that could help us put together a new web site that would be ADA-compliant and also give us the new look that we were looking for."
The district started working with contractor Granicus on a new web site last fall, and the revamped version is scheduled to go online next month.
"They are working ferociously behind the scenes putting everything together so that when we do have the new site go live, it will all be what it's supposed to be," Argue said. "Part of it that we had to contemplate was that if you're going to live stream, you're going to have to have closed captioning in order to be ADA-compliant, so that required certain technology upgrades and an additional cost to provide that service. Otherwise, we would have to eliminate having the live streaming altogether."
Argue noted that the board voted to continue the live streaming and do the hardware upgrades, as well as add closed captioning at a considerable cost, which requires having a live person doing transcripts of the broadcast under the contract with Granicus.
"We'll have the closed captioning for the videos after, and those closed captions will serve as kind of a transcript to the actual meeting, so it may make our administrative secretary's life a little bit easier, too, by being able to summarize the meetings without having to go back and listening, stopping and retyping everything," Argue said. "It was far more important to have the live stream videos for our residents who aren't able to get to the meetings, but also to have those videos as a public record for our community to go back and watch if they choose to."
The district also has a challenge in making archived videos, documents, pictures and maps ADA-compliant.
"We again had to make some modifications to our system that we had in our office on our documents, but part of the services in the contract that we negotiated with Granicus included some conversion in checking what was on our web site [to determine] what was compliant, what wasn't and ensuring that basically anything that would be uploaded into that new web site [would meet compliancy]," Argue said.
Argue said the new web site will be accessible and have a fresh look for anyone using the district's online service, but not all documents will be available that were previously.
"When the new web site goes live, everything that's on there will be ADA-compliant," she said. "We chose to take those historical documents and convert them, but if they're not ADA-compliant, they will not be on the site."
Argue noted that the Town of Loxahatchee Groves had chosen to strip much of its web site rather than go through an expensive process of converting much of its archived data. "We had a discussion about that but chose just to take the steps to do the conversion," she said.
Although she did not have a hard cost available, Argue said the conversion has cost the district a considerable amount of money.
"We had to invest in a whole new program for how the new web site would be managed, as well as the documents and the technology," Argue said. "The cost of the closed captioning was probably the most expensive part because that's an ongoing thing… There is technology out there that will automate the closed captioning, but it's still not as good a technology as having a live person."
The board put Supervisor Tim Sayre, who has web site experience, in charge of the conversion process.
Sayre said the conversion process has been managed largely by district staff and has not been difficult, although the process is painstaking.
"The problem is that everything that's on our site now is pretty much not ADA-compliant, so they're completely rebuilding it from scratch," he explained. "And then as we find things that we need to put up, there's a tool you can run it through to check to make sure that it's ADA-compliant. If we have a call for a PDF from years ago that we need up there, we'll run it through the tool."
Sayre said images are the hardest to bring into compliance because a text description is necessary to be provided for those who cannot see the image.
"The problem is the backup material for all the meetings because there's so much," he said. "If you look at the backup material for our meeting [this week], there's almost 500 pages. Some of it is maps and things like that. Maps are very tough, but I've asked the question about maps and ADA compliance, and they've said there's no clear-cut ruling on that right now."
Sayre said he has a lot of confidence in Granicus' ability to steer the district through the process.
"There's still a lot of stuff that's up in the air because they're waiting on the courts to rule," Sayre said. "We are really close to being done. They supposedly tested it, and everything worked on it."