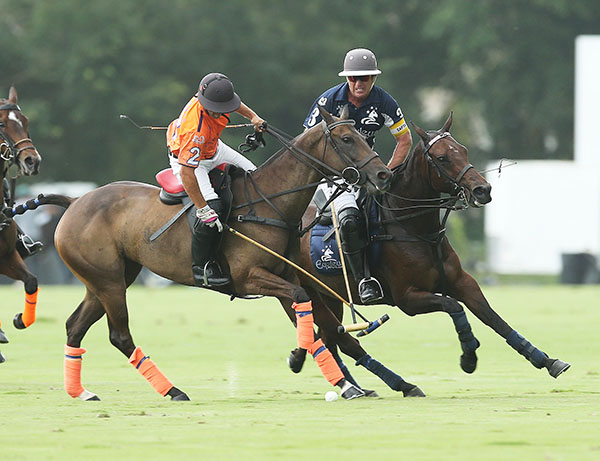 After rain pushed the conclusion of the last quarterfinal match in the CaptiveOne U.S. Open Polo Championship to Monday, April 14, Las Monjitas maintained its lead to defeat Equuleus 8-4 at the International Polo Club Palm Beach to claim the remaining semifinal spot.
In the featured game of the week on U.S. Polo Assn. Field 1, Las Monjitas and Equuleus battled under inclement weather in a slow-paced, yet clean game with few fouls. Equuleus was held to zero penalty attempts in the game. Las Monjitas focused on a possession-based attack by dominating the time on the ball, while Equuleus' duo of Ignacio and Magoo Laprida were chased off the ball, limited to two goals in the game. The organized defense of Las Monjitas ultimately proved to be the difference.
In front of the grandstand on Sunday, play began in a scoreless opening chukker that saw the ball remain in the middle of the field, with Equuleus holding a narrow advantage by producing four shot attempts at goal. The low-scoring game continued into the following chukker with Las Monjitas failing to record a goal, trying to run the ball downfield, rather than trying to open up play with passes downfield.
Mariano Gonzalez opened the scoring on the receiving end of a pass from Ignacio Laprida, giving Equuleus the 1-0 lead. The potent offense of Las Monjitas came to life before the end of the half, led by 10-goaler Hilario Ulloa, who began to utilize the pass to find Francisco Elizalde. Assisting on two of Elizalde's three goals in the chukker, Ulloa pushed Las Monjitas into the 3-2 lead at halftime.
Beginning the second half with his fourth consecutive goal, Elizalde's offensive efficiency contributed to the momentum staying in favor of Las Monjitas. With two minutes remaining in the fourth chukker, rain poured down, postponing the result until Monday to decide the final semifinalist.
Play resumed on the Isla Carroll East field with Equuleus looking to close the deficit, producing a two-goal fifth chukker behind goals from Magoo Laprida and Gonzalez. Reverting back to a fast-paced attack, Las Monjitas took advantage of Equuleus' only foul of the game to convert a Penalty 2 and maintain a three-goal advantage heading into the final chukker.
A defensive final chukker resulted in Las Monjitas protecting its lead to limit the counter-attack of Equuleus. The only goal came on a safety conversion for Elizalde, his sixth goal of the game, to advance Las Monjitas to the semifinals with the 8-4 victory.
Semfinal matches set to played Wednesday, April 17 and Thursday, April 18 pitted Iconica against Gauntlet of Polo favorite Pilot, while Las Monjitas faces Tonkawa. The winner of the two semifinal games will meet on Sunday, April 21 in the title match of the U.S. Open Polo Championship.
For more information, visit www.internationalpoloclub.com.