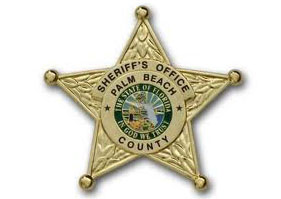 Even as questions linger regarding the future of law enforcement in the community, the Loxahatchee Groves Town Council heard its first-ever annual report from the Palm Beach County Sheriff's Office dedicated to Loxahatchee Groves on Tuesday, April 2.
PBSO District 15 Lt. Craig Turner, in the company of his supervisor Major Eric Coleman, gave the presentation.
"I oversee the deputies who work in Loxahatchee Groves, as well as the deputies who work at Westlake and The Acreage," Turner said. "In the meetings that I had last year and throughout the year with [former Town Manager Bill] Underwood, we discussed priorities for the town and what he wanted us to focus on… One of the priorities he had was commercial vehicles cutting through Loxahatchee Groves without actually having business inside the town."
Underwood's other priorities were to curb manure haulers dumping inside the town without a permit and enforce the lowered speed limit along Okeechobee Blvd.
Turner displayed a map of Loxahatchee Groves showing hotspots of police activity, revealing that Loxahatchee Groves Commons and Palm Beach State College as having the highest rate, along with other areas on Southern and Okeechobee boulevards and along Folsom Road.
"The number-one reason is traffic and looking at commercial vehicles, and that's where we have the most stops," Turner said.
He added that the shopping center and college have the most business activity, as well as increased vehicle accidents, shoplifting and auto burglaries.
"They do a lot of business checks there and get out and walk around to make sure doors are locked, and some other calls that happen there," he said.
Turner explained that he plans to sit down with Town Manager Jamie Titcomb and individual council members to see if the priorities have changed. "We're here to support your town," he said.
Councilwoman Phillis Maniglia asked why there was not more police activity at D Road and Southern Blvd., where the Loxahatchee AG Supermarket and the post office are.
Turner said that his officers keep a close eye on the supermarket. "I have a detective, and I have a couple of deputies monitoring the situation," he said, "They don't call out every single time they go there."
Turner said that his deputies are very proactive in Loxahatchee Groves
"As you know, there is not a hotbed of activity in Loxahatchee Groves," he said. "I like to have deputies come in who are proactive They like to go out, they like to look for stuff and they like to do what they can to keep crime down. If they are not dispatched to something, they are either monitoring traffic or just going out looking for suspicious people or suspicious vehicles."
Turner noted that most of the calls in Loxahatchee Groves were initiated by deputies.
"Like I said, proactivity is very important to me, and 82 percent of the calls we handled last year were self-initiated — somebody checking on a vehicle or conducting a traffic stop," he said. "And 18 percent is where people actually called, asking us to respond to something."
There were two vehicle homicides last year, one on Okeechobee Blvd. where an eastbound vehicle veered into the westbound lane resulting in a head-on collision, and another where a vehicle ran through a guardrail and into a canal.
Turner added that there was one robbery and one shooting last year.
"The robbery was a taxi driver who picked up a fare in Lake Worth, brought them over here, they got into some type of argument," Turner said.
When detectives interviewed the taxi driver at the hospital, his story was not consistent, and he eventually refused to cooperate.
The shooting was drug-related. "Somebody owed the drug dealer some money, and they went after him," Turner explained.
Vehicle burglaries are a big problem everywhere, including Loxahatchee Groves.
"Countywide, it's a huge issue. If you talk to Royal Palm Beach or Wellington, or any other district, in the area, you will see that this is an issue across the board," he said.
The biggest problem is that many people leave their vehicles unlocked when they park at home.
"I believe it's 80 percent of the vehicles that were broken into were unlocked," Turner said. "People are actually leaving valuables in their car, like guns, iPads and iPhones."
Turner said eight of the vehicles burglarized in Loxahatchee Groves were locked and had their windows smashed.
"Most of those were in the Publix plaza, one was at the paintball place and one was at the college," Turner said. "All of those had their doors locked, but they had valuables sitting on the seat."
Loxahatchee Groves averaged just over one stolen vehicle per month. "That's another problem countywide," Turner said.
Thefts averaged just over two a month, mostly being tractors, lawn mowers and other equipment stolen off property.
"If they have an open property, and they have some kind of tools or other stuff taken off their property, it will come in as a theft," Turner said. "If they have a fenced-in property, it'll show up as a burglary."
There are two detectives in District 15, working cases in both The Acreage and Loxahatchee Groves. Turner added that District 15 also has three motorcycles for speeding enforcement and a commercial vehicle unit.
"My commercial vehicle unit worked with the Wellington unit, and they stopped multiple haulers… just to check their paperwork and make sure they had their permits," Turner said. "That was a major focus last year."
Turner said there were 87 vehicle crashes in Loxahatchee Groves last year.
"Most of the crashes were at intersections," Turner said. "The two vehicle homicides were not included in that number, but those numbers are going up every year. Last year was the first year that we actually had statistics for the town for the entire year."
Turner said next year he will be able to compare 2018 numbers to 2019 so that trends can be seen.
"Then I can start showing you where we are going and what we need to focus on," he explained.