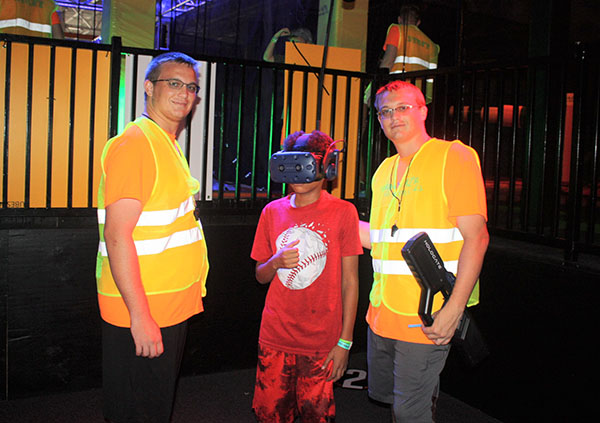 By Gina M. Capone
Urban Air Adventure Park, an indoor family entertainment attraction, made its debut last weekend, opening at the site of the former H.H. Gregg store in front of the Mall at Wellington Green. The highly anticipated business launched with two days of grand opening festivities.
Families gathered at the grand opening to assess and enjoy the unique amenities, such as virtual reality, the ropes course and climbing walls, jumping on trampolines and playing in the tubes playground.
Children engaged in recreation while parents watched or passed time snacking at the Urban Café or sipping wine and beer at the parents' lounge, where bar stools and tables face television screens.
The cool temperature indoors allowed patrons to enjoy physical activities inside, out of the hot sun, and even host birthday parties in the oversized private rooms. Each party room includes a long table with a television, a private host who attends to all of the details and makes sure the birthday girl or boy has the right decorations and food to enjoy the special day.
Saleem Fernandez from Texas and Bobby Kreusler from Florida own the new Wellington facility. Both were on hand to greet the community with a soft opening on Friday, April 12 for first responders, and to meet the general public at the grand opening on Saturday, April 13.
Kreusler, a West Palm Beach native, knows the area and works in the sports management business. He believes, as does Fernandez, that Wellington is the perfect community for Urban Air Adventure Park, which has 79 franchise stores in the United States, Canada and the United Kingdom.
Fernandez, an entrepreneur and businessman, owns four Urban Air franchise locations in Texas and Arkansas, and now in Florida.
"Urban Air Adventure Park is a big deal out west and is now catching on in the east coast," he explained. "All of our stores are well staffed, clean and sanitized, where we take pride in the décor, and what we offer families."
The father of three girls, Fernandez believes Urban Air can supply parents with solutions.
"The parent is the customer when it comes to family entertainment. We, as parents, will ultimately do anything for our kids," Fernandez said. "I see parents who work really hard to supply a birthday party or a special day for their kids. Urban Air allows the parent to enjoy their time, without the hassle of planning a party on their own."
He expects birthdays to be big business at the Wellington location.
"We take the planning away, the cooking away, the cleaning, decorations and organization away," Fernandez explained. "So as a parent, who used to have parties at home, I say stop doing this and come to Urban Air instead."
Fernandez, 36, said he tried to think of all aspects and conditions of family entertainment when he opened his first franchise.
"We have Wi-Fi, ample light and the temperature is cool. The televisions are set up in the lounging areas and parents have plenty of room to sit in comfort, which is important to them," he said. "These Urban Air parks are not like anything else. We are not one-dimensional."
This is why Fernandez is committed to the concept.
"Our CEO, Michael Browning, is one of the smartest people I have ever met," Fernandez said. "He is the creative mind, the innovator of our company. He travels the world and sees the coolest things, implements these things in our parks by building and designing, putting funds into research and development, so that he can bring unique attractions to life. Everything you see in the park, he designs."
Fernandez opened his first store March 2017, in the town of Spring, Texas, a suburb of Houston. His second store opened that June in Conway, Ark., close to Little Rock. His third store opened last year in San Antonio, Texas. Wellington is the fourth store, but it will not be his last. There are plans to open a fifth facility in Broward County.
The organization of franchises owned by Fernandez creates a close-knit family bond. His sister, Layla Fernandez, is the regional manager and was on hand at the opening in Wellington. His uncle is involved in the San Antonio location.
Fernandez recalled his early teenage years, when he began working in his first business, cutting lawns with a newly purchased lawn mower. He worked, managed his own money, and delivered his lawn care service to his neighbors. After leaving college, he invested in a nightclub business that did well. "The 2004 Houston Super Bowl venue put us on the map by [our] hosting one of the largest parties at our club," he recalled.
Seventeen bars and restaurants later, Fernandez began dabbling in commercial real estate and as a general contractor and ended up building Urban Air parks.
"Wellington stood out as a strong location," he said. "This demographic is very family driven. We had many opportunities to sign leases in other areas in Florida. But we hired a company to complete a market study, and the information that was accumulated told us this area has a growing population of 4- to 14-year-olds."
Fernandez expects big things of his new business.
"Our product is the leader in this category," Fernandez said. "We are the fastest-growing family entertainment product in the country. In the last 18 months, two to three new stores a week are opening. I am putting all of my time into these Urban Air businesses. I think we have a top model that works for families throughout the country."
Urban Air Adventure Park is located at 10560 W. Forest Hill Blvd. in Wellington. For more info., visit www.urbanairtrampolinepark.com or call (561) 408-0809.