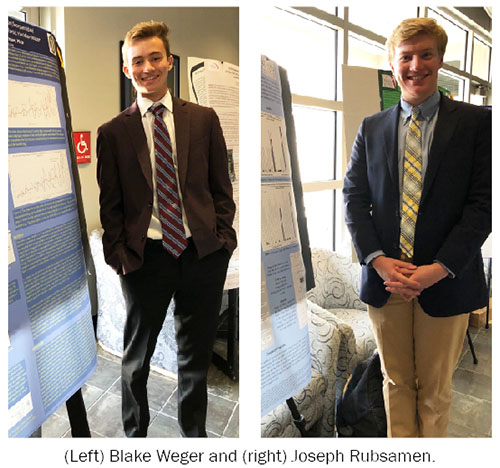 Oxbridge Academy seniors Joseph Rubsamen and Blake Weger placed first and second place, respectively, in the scientific research poster contest at the 28th annual Southwest Florida Water Resources Conference held recently in Fort Myers. Oxbridge was the only high school to enter the competition, taking the top two prizes to outcompete all of the college-level entries.
In addition, Oxbridge students Mai-Brie Conklin, Quinn McKenna, Lara Carter and Sophia Lloyd George also entered the competition, detailing their scientific research efforts at Oxbridge. The students are led by Oxbridge Academy's coordinator of scientific research and environmental outreach education Dr. Teresa Thornton.
Rubsamen, of Delray Beach, won for his poster outlining his research on "Ibuprofen and Copper as Chemical Markers to Identify Fecal Waste and Fertilizer in Southeastern Florida Waterways." Weger, of Wellington, placed second for his poster explaining his research on "Bioaccumulation of Methylmercury Levels in Lionfish (Scorpaenidae) of the Southeast Atlantic Floridian Waters According to Fish Length and Mass."
The theme for this year's water conference was "Bridging Troubled Water: Uniting to Promote Regional Solutions." It featured presentations by leading experts and top decision-makers in water resources, government policy and funding programs in Florida.
The conference brought together researchers, managers, agency staff, consultants and other interested parties to discuss ongoing technical and social research and innovative projects, to share ideas, and to increase awareness of the issues of water supply, water use efficiency, waterbody protection, watershed health and environmental sustainability facing Florida.
The annual conference features Florida's premier poster contest for water resources students statewide. Cash prizes are offered for the best research posters, with awards in two divisions, graduate students and undergraduate/high school students.