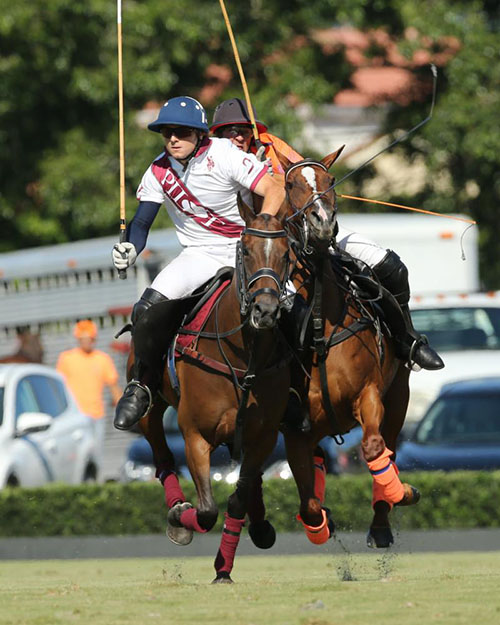 Completing a perfect season at the International Polo Club Palm Beach, Pilot captured the Gauntlet of Polo and the $1,000,000 prize on Sunday, April 21 with a convincing 12-7 victory over Las Monjitas in front of a packed grandstand at the U.S. Polo Assn. Field 1.
Under the immense pressure of the CaptiveOne U.S. Open Polo Championship final, Pilot displayed another dominant performance, leading from start to finish after racing out to a 4-0 lead.
The defensive effort from Pilot proved to be a crucial factor in the game, forcing Las Monjitas to shoot from distance and limiting them to just 5 for 15 from the field.
A disciplined second half with no fouls for Pilot gave them the advantage in open play with Facundo and Gonzalito Pieres at their best, combining for eight goals from the field on accurate 80 percent shooting. Las Monjitas fought to create offensive chances of their own, but Pilot controlled the throw-in battle and produced strong set plays that resulted in Pilot keeping a possession advantage that led to the commanding five-goal victory.
The first chukker featured Pilot's potent offense at their best, scoring four answered goals to begin the game, with Las Monjitas a step behind in attempting to gain possession. After each goal, Pilot immediately regained possession, winning all five throw-ins in the chukker and leaving Las Monjitas on defense.
Finally generating a shot of their own, Las Monjitas' Francisco Elizalde found the goal to put his team on the scoreboard, trailing 4-1 at the end of the first chukker. A renewed focus for Las Monjitas resulted in the team increasing pressure on Facundo and Gonzalito Pieres, creating turnovers to generate a quick counter-attack.
However, inaccurate shooting from the field left Las Monjitas unable to bring the game back into a tie by the half, but their defensive pressure led to just one more Pilot goal in the first half on a Penalty 3 conversion for Facundo Pieres. Committing an uncharacteristic three fouls in the third chukker, Pilot conceded four penalty attempts to Las Monjitas, but Elizalde converted just one of them, leaving Las Monjitas trailing 5-3 at halftime.
In what became the most decisive chukker of the game, Pilot overcame Las Monjitas' momentum at the tail end of first half in a dominating fourth chukker led by Facundo Pieres. Scoring two goals while adding an assist, he worked seamlessly with Gonzalito Pieres, controlling the ball and passing with accuracy to take advantage of Las Monjitas' foul trouble, with Pilot producing effective plays off their Penalty 5s to score four goals in the chukker.
Holding a five-goal lead, Pilot organized their defense, keeping Las Monjitas away from the front of the goal and forcing them into shots from a distance. The result was just one goal from the field for Hilario Ulloa, his first of the game, while Facundo Pieres responded with a goal of his own to keep the five-goal lead with just seven and a half minutes remaining. Any hope of a Las Monjitas comeback was promptly ended by a Penalty 3 conversion for Facundo Pieres to begin the final chukker, extending Pilot's lead to six and securing the CaptiveOne U.S. Open Polo Championship title.
With one goal and an assist, Matias Gonzalez claimed MVP honors of the game, while Francisco Elizalde claimed the MVP honors for the Gauntlet of Polo series. Facundo Pieres received several titles, including Best Playing Pony of the final with Mega Chistosa, while both Best Playing Pony of the Gauntlet of Polo series and Horse of the Year went to his Open Canosa. Elizalde's Delfina Molinera claimed the honor of Best Playing Pony of the U.S. Open tournament.