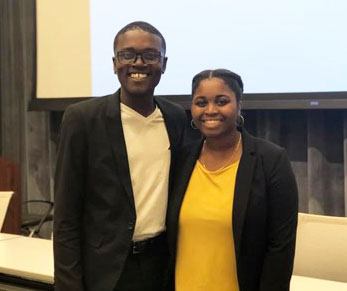 The Central Palm Beach County Chamber of Commerce's nonprofit arm, the Central Palm Beach Community Foundation, recently announced the end to an exciting and successful Young Entrepreneurs Academy. Each week from October through April, 13 determined students worked to craft their own businesses.
Through guidance from mentors, guest speakers and field trips, the students prepared business plans, presentations and five-minute business pitches.
The program year ended with a Shark Tank-style investor panel, where five volunteer judges chose which students earned funding for their business. The judges also chose the top business to represent the Central Palm Beach County Chamber of Commerce on May 3 at the Saunders Competition in Rochester, N.Y. This year, the winner of the chamber's 2018-19 YEA program was the company "Hykit," an in-house stadium and venue food delivery service created by Lake Worth High School junior Rachel Bailey and senior Weidmayer Pierre.
"I was very excited when I heard the great news about their achievement," Lake Worth High School Principal Dr. Elvis Epps said. "It is great news for our student body. Ralph Waldo Emerson said, 'Nothing great was ever achieved without enthusiasm.' Rachel Bailey and Weidmayer Pierre truly exemplified that throughout the program. They never doubted their chance to win. Now, they are headed to New York as our school and district representatives. I am very proud of them."
Runner-up was Martin County High School freshman Joseph Semrai with his streamlined online learning platform "Lightning Learning." Semrai also won startup funding at the investor panel event and will be able to continue developing his business as CEO.
"The YEA program offers our local students an incredible opportunity to foster their entrepreneurial spirit," said Frank Gonzalez, chair of the CPBC Chamber Foundation and a member of the investor panel. "Not only does it provide a platform where they can bring their business ideas to market, but it also helps students develop the interpersonal skills needed to succeed beyond the classroom."
Recruitment for the 2019-20 program year is starting now. For more information, visit www.cpbchamberyea.org or contact Program Manager Alexandra Thomas at (561) 578-4808.
All proceeds from the program go to the nonprofit Central Palm Beach County Community Foundation. To support the foundation, visit www.cpbchamber.com or call (561) 790-6200.