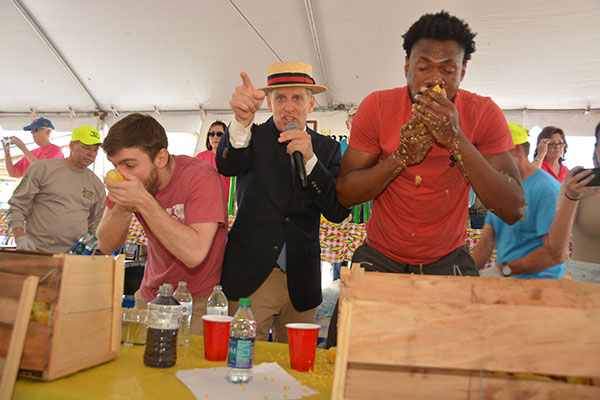 Top-ranked competitive eaters from around the nation will gather at the National Sweet Corn-Eating Championship, sponsored by the Sweet Corn Farmers of Florida, on Sunday, April 28 at 3 p.m. The event will take place as part of the Sweet Corn Fiesta at Yesteryear Village at the South Florida Fairgrounds, located at 9067 Southern Blvd.
In 2018, Carmen Cincotti of New Jersey ate 58 ears of Florida sweet corn in 12 minutes. Cincotti's title and record of 61.75 ears in 12 minutes, set in 2017, will be on the line at this year's championship.
"There are multiple techniques to eating this delicacy, from the typewriter to the shredder," Major League Eating Chair George Shea said. "It's a matter of determining which of these many techniques will take you to the top."
Aside from the competition, the event includes many other fun activities.
"For many, the National Sweet Corn-Eating Championship marks the true beginning of spring," said Ann Holt of the 19th annual South Florida Sweet Corn Fiesta. "It's an exciting time for all, especially in Palm Beach County, and we always see a great turnout, year after year."
Participating Major League Eaters, who will compete for $6,100 in prize money and the title of Sweet Corn-Eating Champion, include: #5-ranked Darron Breeden from Orange, Va.; #6-ranked Gideon Oji from Morrow, Ga.; #15-ranked Nick Wehry from Torrington, Conn.; #17-ranked Juan Neave from Austin, Texas; #23-ranked Eric "Badlands" Booker from Selden, N.Y.; #30-ranked Crazy Legs Conti from New York, N.Y.; and #36-ranked Darrien Thomas from Canada. Other notable competitors in attendance include Jason Ruppert from Cape Coral, Fla., and Tracie Dickerson from Palmetto Bay, Fla.
The 19th annual South Florida Sweet Corn Fiesta, presented by the Western Palm Beach County Farm Bureau, is buttered with a family festival of children's games, music, the national eating competition and plenty of mouth-watering and locally grown sweet corn.
Major League Eating, the world governing body of all stomach-centric sports, conducts more than 80 events annually, including the Nathan's Famous Fourth of July International Hot Dog-Eating Contest in Coney Island, N.Y. The competitive eating community is made up of more than 8,000 veteran and rookie gurgitators who travel the nation in search of top titles and the glory that they provide. For more information, visit www.majorleagueeating.com.