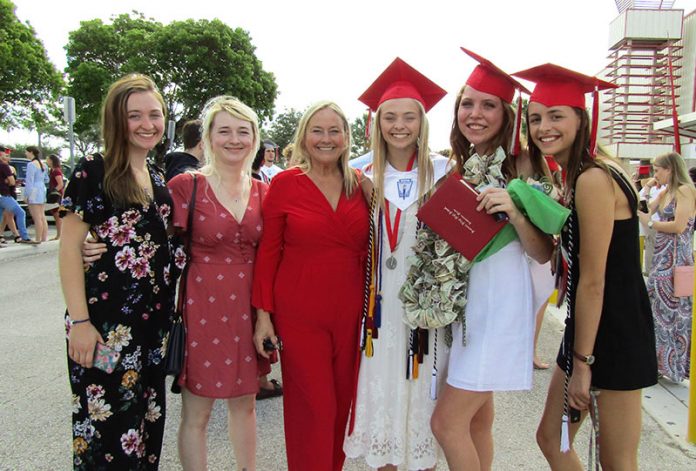 Seminole Ridge High School sent 520 graduating seniors into their futures on Friday, May 17 in commencement ceremonies at the South Florida Fairgrounds Expo Center.
"Welcome to the graduating Class of 2019," Principal James Campbell said to the full auditorium. "These men and women have put in a great deal of work to reach this day, and we want to thank everyone for joining us to honor this special class."
Superintendent Dr. Donald E. Fennoy II cautioned graduating seniors on the way they present themselves to the world, particularly on social media. "You live in an era where anyone can hide behind a screen and pretend to be what they want to be or say anything they want to say about anyone or anything, without ownership or responsibility," he said.
Fennoy urged the soon-to-be graduates to seek out real relationships and interact with people, rather than just share posts online. "Build real relationships, not just followers," he said. "Seek out authentic conversations, not just Snapchats."
Senior Class President Jerry Jerome thanked his parents and his uncle for coming from Haiti to work hard and inspire him to be the best he could be.
"The struggles we went through inside and outside of school allowed us to be who we are right now," he said. "The fact you are sitting here in your cap and gown ready to receive your diploma is proof of your potential, proof that you overcame everything the world threw at you these past four years."
Jerome will attend the University of Florida to pursue a degree in marketing.
Salutatorian Graciella Leon thanked her family and teachers for helping her along the way.
"Everyone has their own unique experience, and you should find that place for you," Leon said. "Whoever said you need to be president of every club and spend every weekend doing 12 hours of community work to be noticed or be successful was wrong. If you look at the graduation program, you can see that I have only one single [notation] next to my name, yet here I am as salutatorian."
She urged her fellow graduates to discover what they are passionate about.
"If you put as much energy into the things you love, you'll soon look back and realize there is a person, a student, a friend and so much more than you thought, so go forth and set the world on fire," Leon said.
Leon earned early admission to attend Georgetown University to study science, technology and international affairs.
Valedictorian Aneeshea Cason said transitioning from home schooling to public school in her freshman year was a nerve-wracking decision.
"But it was one that I was determined to take," Cason said. "As a 12-year-old freshman, high school met that opportunity to create a brighter future for myself and to interact with people who were pursuing similar ambitions. Before starting, I told my mom that I wanted to be the valedictorian of my class. She responded with three conditions, that I would heed her instructions, work hard and stop crying so frequently."
Cason recalled how she excelled in school, including making the varsity basketball team in her freshman year.
"Shorter, lighter and younger than my opponents, playing on varsity was something that I wasn't sure that I wanted to do," she recalled. "My coach told me not to be afraid, and to be the first to take on a difficult task. Now, I am the first player at Seminole Ridge to have scored more than 1,000 career points."
Cason said she is proud of her team's record, which went from five wins in her freshman year to 22 wins in her senior year.
"High school has taught me to be bold enough to tread new territory, to be resilient in the face of adversity and to be brave enough to accept the challenge," Cason said. "When taking on a challenge, struggles are inevitable, but what's important is not to step back and sulk but having to overcome it. The disappointments we face have shaped our characters, mindsets and understanding of the world around us."
Cason was recently awarded a National Merit Scholarship and her biotechnician certification through the school's biotechnology academy. She will attend the University of South Florida to major in biomedical science and business.
Campbell said the main goal of the faculty at Seminole Ridge was to see the graduating seniors walk across the stage and receive their diplomas. He was proud to see how well the Class of 2019 achieved its highest potential.
"This year's class has several examples of students doing just that," Campbell said, pointing out that in August, before the school year began, 13 seniors had earned their Bright Futures scholarships and eight graduating seniors had consecutively earned degrees from Palm Beach State College. "For the first time in school history, we had three National Merit Scholarship finalists. Aneeshea Cason was our first-ever National Merit Scholar."
Campbell added that senior Nicole Marvez won the National Merit Boston University scholarship and Immanuel Wilson won the National Merit University of Florida scholarship.
He also noted that the Student Government Association won first place in the School Spirit category at the state convention, and seniors in the school's construction academy built four homes for Habitat for Humanity and began work on a fifth. Campbell said 13 of the academy's seniors have secured jobs in the construction field.
"Our blood drive team helped Seminole Ridge collect the most units of all schools in Palm Beach County and had the highest outreach program for community and parent drives," he said. "As a result, our seniors earned a school record of $17,750 in scholarships for their participation in those drives."
Meanwhile, three biotechnology students advanced in the state science fair and one qualified for the international science fair. The school's TV production academy again competed nationally at the Student Television Network Awards. In athletics, the boys track team once again won the district championship and their first-ever regional championship. Two members of that team set records at the state competition. Also, senior Jacob Campbell advanced to state competition in weightlifting for the third consecutive year. The school's cheerleading squad earned its first-ever state championship this year.
"Clearly, it has been a successful year," Campbell said. "Many of you sitting here today are set with your plans for the future. However, a lot of you are nervous because you have no idea of what you want to do next. If that's you, relax. You do not have to have everything figured out just yet. Take some time to enjoy this accomplishment, but not too long. Chances are you will spend more than 40 years in the work force, so try to do something that brings you joy and fulfillment."