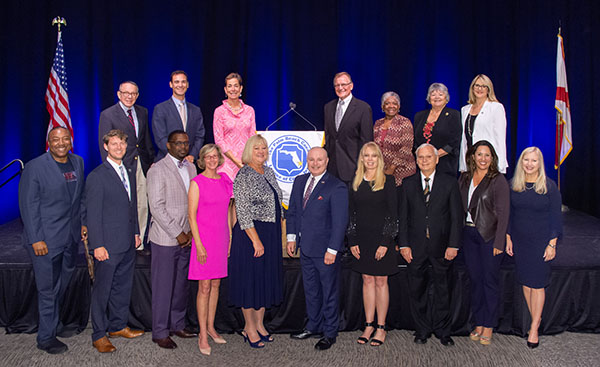 The Palm Beach County League of Cities held its annual Board of Directors & Executive Installation Banquet on Wednesday, May 22 at the Kravis Center.
At the event, Royal Palm Beach Councilman Jeff Hmara was installed as the new president, while outgoing president Mayor Anne Gerwig of Wellington presented a number of awards.
The keynote speaker was Lyle Sumek of Lyle Sumek Associates, and the honor of installing the 2019-20 president and board of directors went to Palm Beach County State Attorney Dave Aronberg. In attendance were more than 300 elected municipal and county officials, state legislators and business partners.
The League of Cities also presented its annual Legislative and Intergovernmental Service Awards. The William "Bill" Moss Memorial Award went to Mayor Steve Wilson of Belle Glade and the Founder's Award went to Belle Glade City Manager Lomax Harrelle and Cloud Lake Town Clerk Dorothy Gravelin.
For more information, visit www.palmbeachcountyleagueofcities.com.