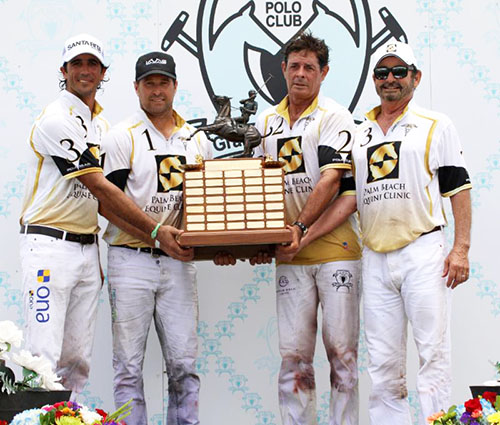 Palm Beach Equine won its first tournament of the spring season Sunday, May 26 at a windswept Grand Champions Polo Club.
In front of a packed house, Palm Beach Equine (Brandon Phillips, Juan Bollini, Alejandro Novillo Astrada and Scott Swerdlin) won a hard-fought 10-9 game against Audi (Lucas Lalor, Sugar Erskine, Marc Ganzi and Jared Zenni).
Argentine 8-goaler Alejandro Novillo Astrada scored the winning goal with 1:45 left in the game. Astrada finished with four goals and was named Most Valuable Player.
"I went to put pressure on Lucas and Marc, and I got an open space, and luckily I was able to score," Astrada said. "Marc was trying to hook me, and it was a little difficult, but it went in."
Astrada has enjoyed the spring season at Grand Champions.
"This is a very fun team to play with," Astrada said. "I think we got along very well from the beginning. In our first game, once we started working as a team and did what we had to do for each other, we played very well together."
When asked what the key to winning was, Swerdlin smiled and said, "We put one more in than they did. You can't take anything for granted, but that was a great goal by Astrada. There was no secret, everybody was marked up and fighting, every ball was hard."
Ava Maria, a 5-year-old mare played by Ganzi, was Grand Champions Best Playing Pony.
"This team played amazing, it was great fun," Swerdlin said. "I want to thank Marc and Melissa Ganzi, because without them I wouldn't have the opportunity to play this kind of polo. It's very generous of them to let us play with the kind of players that they have. It's great, it's exciting and it's fun."