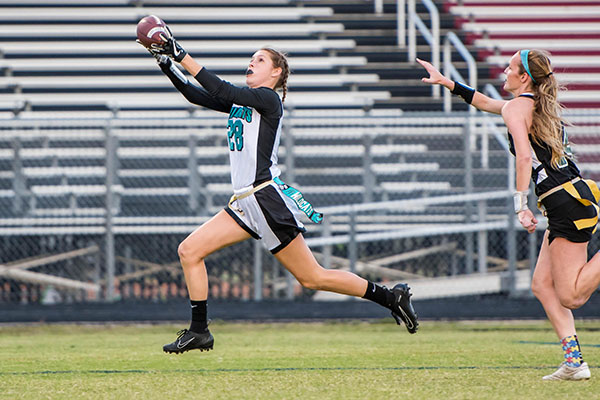 On Thursday, April 25, the Royal Palm Beach High School girls flag football team traveled to host Palm Beach Central High School and faced Jupiter High School in the District 9-2A final, falling to the Warriors 7-6 in a thrilling rematch.
The Wildcats (9-4) defeated Jupiter 13-9 earlier in the season, and defeated long-time flag football power Seminole Ridge High School in the first round of the district tournament to face Jupiter in the final match.
Royal Palm Beach had a chance to get on the board first on the Wildcats' first possession. They drove inside the Jupiter 20, then went four-and-out to turn the ball over on downs. The Warriors completed a 40-yard pass on their first play from scrimmage to get into Royal Palm Beach real estate. Jupiter was able to power through two Wildcat sacks inside the Royal Palm Beach 20, and on fourth down, Jupiter connected in the end zone to take a 7-0 lead late in the first quarter.
Royal Palm Beach continued to struggle offensively through the early part of the second quarter, throwing an interception. Aggressive play by the Wildcat defensive unit kept them in the game. Lily Lanier picked off a Jupiter pass at the Royal Palm Beach 38-yard line to give the Wildcat offense another shot at closing the margin with two minutes left in the first half. Quarterback Karleigh Farrell connected with receiver Jenna Springthorpe for a 42-yard touchdown, but the point after attempt failed. Royal Palm Beach trailed by one, 7-6, at the conclusion of the first half.
The Wildcats had an opportunity to take the lead after a botched Jupiter punt that set up possession at the Warrior 25-yard line, but the Wildcats came up empty, turning the ball over with another interception.
Royal Palm Beach's offensive struggles continued. They drove to the Jupiter 25, but fell short yet again, turning over the ball on downs, as neither team could add to their tally through the third quarter. Opportunity continued to knock well into the final seconds for the Wildcats, but the Jupiter defense would bend but not break. A Jupiter interception as time expired ended the Wildcats' chance of moving on to the regional tournament, and the Warriors secured a 7-6 district title victory.
The Wildcats earned district runner-up and finished the season 9-4. Defensively, the Wildcats totaled five sacks on the night, with Zyiah Godfrey and Sam Saint-Jean combining for four. Lanier is credited with a sack and an interception.