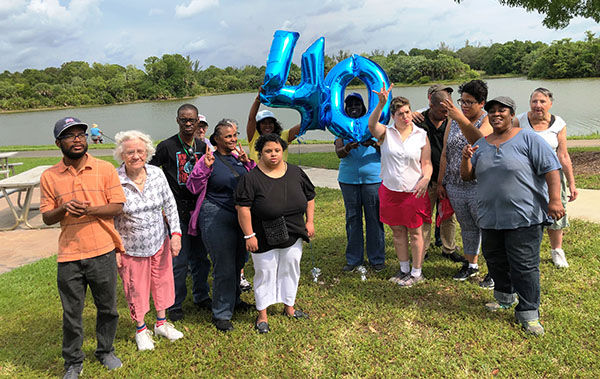 Seagull Services kicked off its 40th anniversary last month to celebrate four decades of serving individuals with developmental disabilities.
The agency provides education, vocational training, employment and life skills to teens and adults with significant developmental disabilities. Based in West Palm Beach, it serves hundreds of individuals each year from the greater Palm Beaches.
"We're very proud to celebrate this milestone with the community, our supporters, and most importantly, our program participants, many of whom have been with us for decades," Board Chair Laura Fowler said. "Seagull Services has grown and evolved, but its mission remains true: to help people with life challenges affecting their self-sufficiency to live in dignity and realize their full potential."
Seagull was created by a group of parents seeking better opportunities for their sons and daughters with developmental disabilities. In 1979, they began meeting in the basement of a West Palm Beach church, sharing their hopes that their children would have better education, employment opportunities and full lives. From those meetings, Seagull Industries for the Disabled was born.
At that time, there were few opportunities for people with developmental disabilities to work among the general population. Seagull operated workshops where its program participants performed a variety of work for businesses that contracted with the agency.
Throughout the four decades, Seagull expanded and evolved as needs of the developmentally disabled population evolved. The agency's name was changed in 2014 to Seagull Services to better reflect the array of services it provides.
Today, Seagull Services' focus is on education, building life skills and employment services. It includes a charter school focusing solely on middle and high school students with developmental disabilities. The Seagull Academy for Independent Living combines traditional academics with life skills and employment training.
Seagull offers numerous programs that provide vocational training and employment opportunities. The agency also provides a safe, enriching environment for seniors and others not in the workforce that includes community activities, art and physical exercise, and field trips.
Seagull began its 40th anniversary celebration with a barbecue for program participants on April 26 at Dyer Park. Other events will be held throughout the year, including the 10th annual Chef Event in the fall.
For more information, visit www.seagull.org.