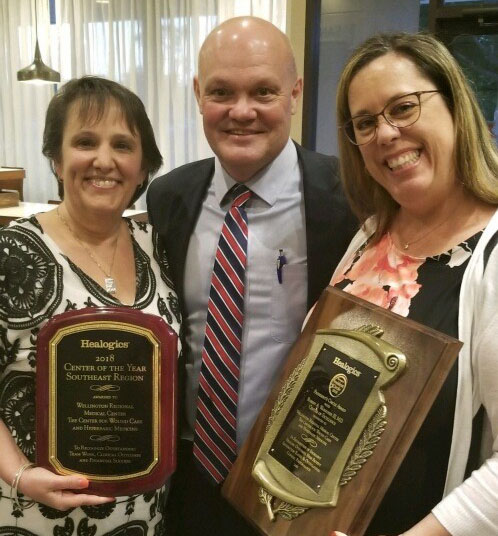 The wound care and hyperbaric medicine program at Wellington Regional Medical Center has received the distinguished Center of the Year award from Healogics Inc. More than 600 centers had the opportunity to qualify for the award, but only six centers received the recognition.
In order to qualify for Center of the Year, stringent quality measures must be met, such as high levels of healing outcomes, low days to heal and excellent patient satisfaction rates. The recognition is a reflection of the program achieving quality patient care and clinical outcomes.
"What an honor for our wound care program to be named a President's Circle Award Winner and a Center of the Year just a few weeks apart," said Pam Tahan, CEO of Wellington Regional Medical Center. "The recognition is an indication of the level of care available for our patients. We are proud of the recognitions."
The wound care and hyperbaric medicine program at Wellington Regional Medical Center is a member of the Healogics network of nearly 700 wound care centers, with access to benchmarking data and proven experience treating approximately 2.5 million chronic wounds.
The hospital's program provided specialized treatment to more than 6,200 patient visits in 2018, often preventing amputations and helping patients return to active lives. Leading-edge treatments at the center include negative pressure wound therapy, total contact casting, bio-engineered tissues, biosynthetic dressings and growth factor therapies. The center also offers hyperbaric oxygen therapy, which works by surrounding the patient with 100 percent oxygen to help progress the healing of the wound.
Wellington Regional Medical Center is a 233-bed acute care hospital celebrating more than 30 years of treating residents in Wellington and the surrounding areas.
To learn more about the hospital, visit www.wellingtonregional.com.