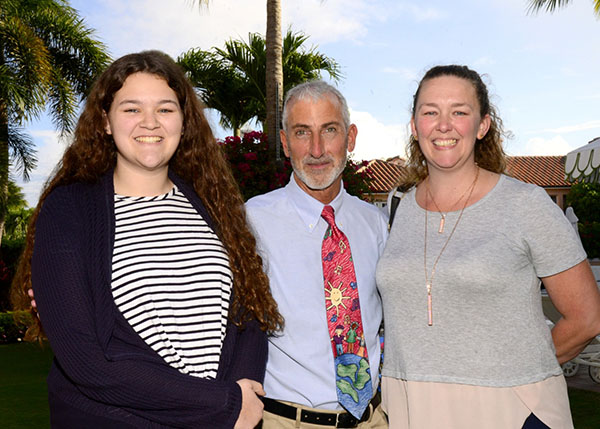 More than 140 people attended the Palm Beach Fellowship of Christians & Jews end-of-season May Day Soiree on May 1. The event included the presentation of awards to local students for the Essay & Creative Arts Competition.
Caleigh Little, an eighth grader at Western Pines Middle School, took the top award in the music category, and Maya Morales, also an eighth grader at Western Pines, captured the top prize in the art category. Western Pines students who took home honorable mentions were: Michael Peters, grade 8, music category; Olivia Figurella, grade 8, essay category; and Nicholas Hardy, grade 7, video category. Western Pines teacher Steve Gordon received a check for school supplies for being a teacher of winning students.
Fellowship Education Co-Chair Chuck Hagy presented the awards. A panel of judges reviewed hundreds of submissions with this year's theme of "Hope." The annual contest is open to middle school and high school students from all public, private, parochial and charter schools in Palm Beach County.
Fellowship Chair John C. Randolph welcomed everyone to the final event of the fellowship's 26th season.
"We feel that we have accomplished much in our 26 years of existence and that things have improved locally," Randolph said. "But nationally and internationally, things have deteriorated. Hate crimes and anti-Semitic activities have increased on college campuses, in synagogues, in our communities, schools and elsewhere. It is for that reason that each of us must work all that much harder to combat hatred and prejudice of all kinds."
The group is dedicated to promoting fellowship, understanding and respect among all religions and cultures; to bringing the community together through education, dialogue and interaction; and to addressing issues rooted in intolerance, anti-Semitism and unjust discrimination.
For more information, call (561) 833-6150 or visit www.palmbeachfellowship.net.