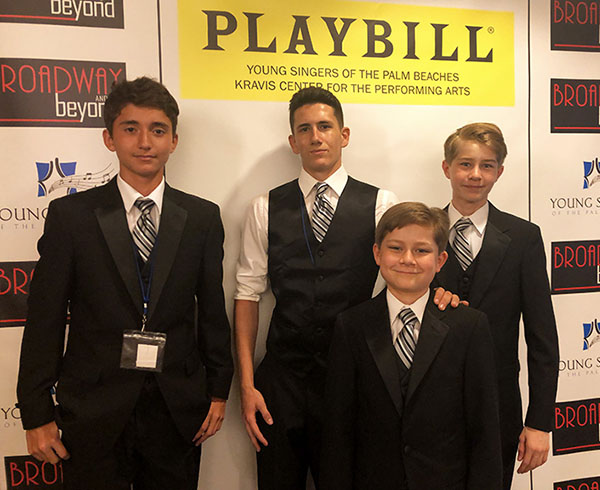 On Sunday, May 19, the Kravis Center for the Performing Arts will come alive with the sounds of Broadway and Beyond, the Young Singers of the Palm Beaches' spring concert spectacular.
More than 350 young singers in grades two through 12 will offer a memorable evening celebrating the music of 10 decades of Broadway. The singers will fill the main stage of Dreyfoos Hall with the sounds and choreography ranging from the Caribbean beat of Once on This Island to the streets of New York with "Seize the Day" from Newsies. Reminisce with great numbers from Broadway shows like The Music Man, Carousel and Bye Bye Birdie. Enjoy recent hits from Dear Evan Hansen, The Little Mermaid and The Lion King.
Men's Choir member Cade Jette is especially excited about singing the barbershop-quartet-style number "Lida Rose."
"It's harder music than normal because it is in four parts and there's a lot of dissonance, and barbershop style of singing is fun," he said.
Choirmate Ethan Estevez has a different favorite piece he is looking forward to performing at the concert. "'Men' is a really good one, and I like the style of it," he said. "I am looking forward to the overall performance.
This spring's annual concert is surely going to be a memorable one, for the choir members performing and all of the audience members as well.
Broadway and Beyond will be held Sunday, May 19 at 4 p.m. at the Kravis Center for the Performing Arts. Tickets are $15 to $60 and can be purchased at the Kravis Center's box office, by calling (561) 832-7469 or online at www.kravis.org/youngsingers.
The Young Singers of the Palm Beaches is an award-winning children's choir. They have won numerous awards, such as the Diversity and Inclusion Award from the State of Florida and Outstanding Programming from the Cultural Council of Palm Beach County. The organization believes that choral music education is a valuable resource in the development of productive participants in society.
Through its choirs, the Young Singers provide children with the opportunity to develop leadership skills, create supportive friendships and become ambassadors for their communities.
For additional information, call Young Singers at (561) 651-4429 or e-mail information@yspb.org.