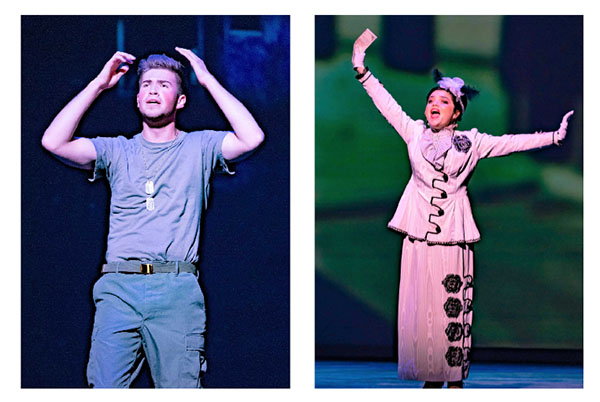 Two local students are on their way to New York City to compete in the National High School Musical Theatre Awards — also known as the Jimmy Awards — representing Palm Beach County. The students will also experience a week-long musical theater intensive with Broadway artists, thanks to being selected the top student performers at the second annual Kravis Center Dream Awards.
Clayton Hider, a senior at the King's Academy, and Olivia Henley, a sophomore at the King's Academy, both from Wellington, were named Outstanding Lead Actor and Outstanding Lead Actress at the Dream Awards: Celebrating High School Musical Theater Excellence ceremony on May 12. Hider was featured in Miss Saigon as Chris, while Henley performed the role of Alice Beane in Titanic, during performances of the musicals held at their school during the 2018-19 school year.
Guests at the Dream Awards showcase in the Kravis Center's Dreyfoos Hall were treated to performances by 150 students from 14 local high schools.
West Boca Raton High School won Outstanding Musical for its production of Hairspray, and Zoraida Adams was named Inspiring Theater Educator for her commitment to Donna Klein Jewish Academy's theater program and its students.
"It was wonderful to have 14 local high schools — four more than last year — participate in our second Dream Awards ceremony," Kravis Center CEO Judith Mitchell said. "As the Kravis Center looks to the future with our facility expansion and enhancements through our Kravis 2020 initiative, we are delighted that the Dream Awards will be part of our continuing mission to support local arts educators and their students. We are thrilled for Clayton and Olivia and will be cheering on their performances in New York."
The Jimmy Awards ceremony performance will be held Monday, June 24 on the Minskoff Theatre stage on Broadway and will be livestreamed at 7:30 p.m. at www.jimmyawards.com. All expenses for this student experience will be covered by the Kravis Center.