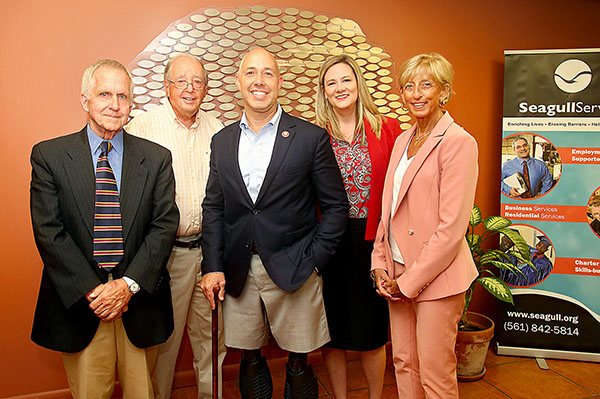 U.S. Rep. Brian Mast (R-District 18) recently toured Seagull Services. Mast was welcomed by Board Chair Laura Fowler and Interim CEO Linda Moore, who led a tour and information session at Seagull's headquarters.
Seagull is celebrating 40 years of service to adults and students with developmental disabilities in Palm Beach County but faces challenges as state and local dollars for special needs programs fall short of providing for all who need the programs, Fowler said.
The 45-minute tour included a visit with participants in Seagull Services' Adult Day Program as well as with participants in Seagull's Business Services Division, which provides packaging, shipping and other fulfillment services to numerous private businesses in contract with the agency.
Mast joined Seagull's team following the tour to discuss issues, including the need for greater funding and efforts at finding employment opportunities for people with developmental disabilities.