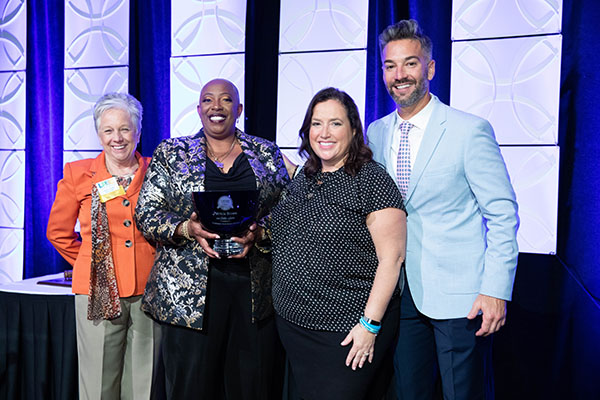 More than 370 people attended Leadership Palm Beach County's (LPBC) Leadership Celebration on Thursday, June 6 at the Palm Beach County Convention Center. This is LPBC's end-of-year event to celebrate the Leadership Engage Class of 2019 and honor the recipients of this year's Leadership Excellence Awards (LEA).
The event was well-attended by not only alumni of the organization, but also by a diverse range of community leaders representing all industries in Palm Beach County.
This year's theme was "East Meets West," which showcased how LPBC connects all parts of the community. Honorary chairs were Matthew Hoffman, president of Tellus Products, representing the western areas, and Laurel Baker, CEO of the Palm Beach Chamber of Commerce, representing the east.
The LEAs recognize exceptional LPBC alumni who have made significant contributions to improve the community. There are four awards. Three LEAs are given to individuals in the private, public and nonprofit sectors. The president of LPBC, which is currently Lisa Johnson, CEO of the Girl Scouts of Southeast Florida, chooses a sole recipient for the President's Award.
The 2019 recipients were Kimberly Lea of Keiser University for the private sector award sponsored by Gunster, Kate Watt of Susan G. Komen Florida for the nonprofit sector sponsored by Quantum House, Palm Beach County Sheriff's Office Lt. Patricia Brown for the public sector sponsored by Proffitt Management Solutions and President's Award winner Victoria Chouris of the South Florida Fair.
Leadership Palm Beach County Inc. is an educational nonprofit organization designed to foster awareness of community issues and promote efficient communication and cooperative relationships between existing and emerging community leaders. LPBC's stated mission is to educate and unite leaders to build a better community. Learn more about LPBC at www.leadershippbc.org.