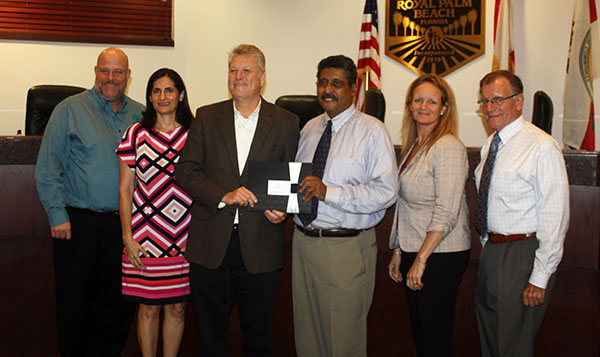 Richard Ellis, division chief of medical services for Palm Beach County Fire-Rescue, visited the Royal Palm Beach Village Council on Thursday, June 20, explaining the growing services his agency provides to residents in need.
"One area under my section medical services is EMS," he said, referring to PBCFR's emergency medical services arm. "We currently run about 140,000 calls per year in Palm Beach County. About 110,000 of these calls are medical calls, which come under my jurisdiction."
These calls are handled with award-winning professionalism, he noted.
"You should be very proud to be served by Palm Beach County Fire-Rescue," Ellis said. "I know that I am proud to work for them. We have some of the very best paramedics in the county, and the best medical director in the state, Dr. Ken Scheppke."
Ellis focused on time-sensitive emergencies like stroke, acute myocardial infarction (a severe heart attack also known as STEMI), sepsis and trauma alerts, which require rapid identification, diagnostic testing and treatment for improved survival.
"In Palm Beach County, there are two Level 1 trauma centers serving the area. Royal Palm Beach residents go to St. Mary's Medical Center," Ellis explained.
St. Mary's Medical Center and Delray Medical Center are the two designated trauma centers in the county. These two centers provide specialized hospital care and rehabilitation for trauma victims.
St. Mary's provides coverage for trauma cases that occur in the northern part of Palm Beach County, while Delray provides coverage in the southern part of the county. However, when time is critical, many emergency services are also offered by more local facilities.
"Palms West Hospital and Wellington Regional Medical Center both are certified STEMI centers. Wellington Regional just about a year ago became a certified stroke center," Ellis said. "So, we are able to provide that level of care to the residents of Royal Palm Beach."
In Palm Beach County, there are nine STEMI hospitals and six comprehensive stroke centers, according to Ellis.
"Recently, ER at Westlake opened as a standalone emergency room off of Persimmon Blvd. This is another way to serve the residents of Palm Beach County," Ellis said.
ER at Westlake is an extension of Wellington Regional Medical Center. It is staffed around the clock with an ER physician and other medical staff capable of treating general emergency cases from cuts and bruises to heart attacks and strokes.
"Cardiac arrest cases are running at about a 35 to 40 percent ROSC rate," Ellis told the council.
ROSC stands for "return of spontaneous circulation." Across Florida, the ability to get a pulse on average is only 17 percent of the time when a cardiac patient is trying to be revived. Since 2015, Palm Beach County EMS has been improving the statistic.
"That means, if someone has a cardiac arrest, there is a 35 to 40 percent chance that we can get the pulse back," Ellis explained. "This is almost double the state's average."
Working on improving survival rates has been a key goal of PBCFR.
"We have really innovative protocols," he said. "A few years ago, we started a 'head up' CPR protocol."
This has helped improve resuscitation rates.
"It used to be rare that a patient suffering from cardiac arrest would walk out of the hospital," Ellis said. "But it happens so frequently now that hospitals have reunions for cardiac patients. A lot of this is innovations in our protocol."
The agency is also exploring other ways to improve survival rates.
"One new, innovative practice we are doing is ultrasound," Ellis said. "I know we are the only agency in the county that has ultrasound. Currently, we only have one station that has it. But we just got a grant for four more ultrasounds. During a cardiac arrest call, they will actually look at the heart to see what it is doing."
When it comes to sepsis shock, Ellis said that Palm Beach County will give antibiotics right at the scene. Studies have shown that the sooner patients are given antibiotics when in sepsis shock, the better their survival rate.
St. Mary's Medical Center offers free stroke screenings by appointment the first Wednesday of every month from 10 to 11 a.m. As part of the Advanced Neuroscience Network, St. Mary's seeks to help individuals recognize their risk factors associated with stroke in order to prevent strokes before they happen. Residents can call (866) 236-5933 to enroll.
In other business:
• Development Review Coordinator Kevin Erwin was presented a 15-year service award. Erwin began working for Royal Palm Beach in June 2004 as an associate planner. He was promoted to development review coordinator in October 2006.
• July is Park & Recreation Month. A proclamation was issued by Mayor Fred Pinto. The Royal Palm Beach Parks & Recreation Department conducts more than 200 recreational, cultural, social and community events each year, the proclamation noted, adding that the village is home to more than 1,000 acres of parks, trails, green space and preserves.
• The council discussed its options for a new village slogan, preferring "A Place You Call Home." The slogan will be formally unveiled at a ceremony on July 4.