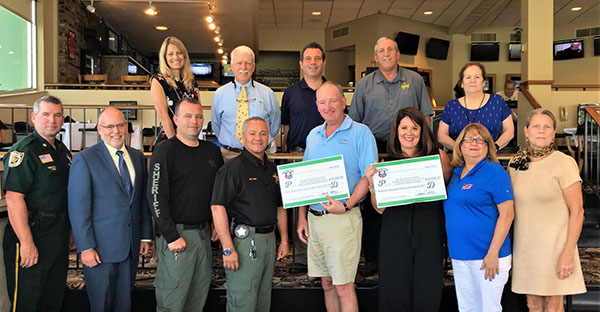 The Rooney's Golf Foundation recently distributed $35,328.71 to eight local charities as a result of spring fundraising events. The foundation coordinated the 5K run/walk and golf tournament with a committee of volunteers from the Palm Beach Kennel Club, benefiting charities and people in the community.
The 12th annual Rooney's 5K Run/Walk was held on Saturday, April 20 at the Palm Beach Kennel Club. This year's run raised $19,039.41 for Greyhound Support Transport, the Palm Beach County Police Athletic League, the Potentia Academy and the Westgate/Belvedere Homes CRA, with the help of sponsorships and 599 participants. Next year's run/walk is scheduled for Saturday, April 11, 2020 at the Palm Beach Kennel Club.
The fourth annual Rooney's Spring Golf Tournament was held on Thursday, May 2 at the Abacoa Golf Club. The event raised $16,289.30 to benefit four local charities: Awesome Greyhound Adoptions/Hounds & Heroes, FAU Honors College, Forgotten Soldiers Outreach and the Wounded Veterans Relief Fund. Next year's tournament will take place on Wednesday, May 6, 2020 at Abacoa.
"We are very excited with this year's numbers for both the Rooney's 5K and Spring Golf Tournament. Our goal every year is to raise money and awareness for amazing local charities all the while making sure everyone is having fun. We would like to send a big thank you to all of the participants, sponsors and volunteers who make these events happen," said Alexis Barbish-Sommer, executive director of the Rooney's Golf Foundation.
The foundation has donated $956,748.71 to local Palm Beach County charities since 2001. Upcoming events include the second annual Rooney's Bowling Bash on Sept. 14 at Bowlero Bowling Alley, the 18th annual Rooney's Golf Foundation Fall Golf Tournament on Monday, Oct. 28 at Trump National Jupiter and the sixth annual "Overcomer" Luncheon Thursday, Nov. 21 at the National Croquet Center.