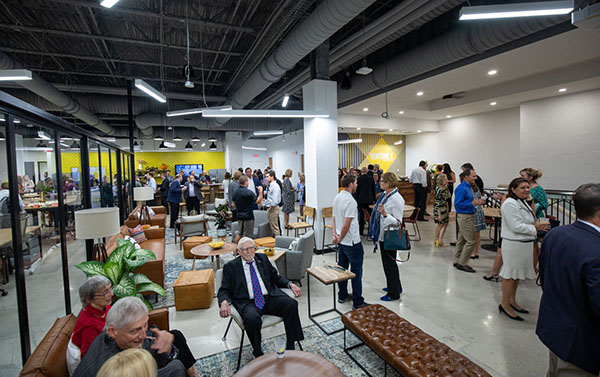 Entrepreneurs, inventors and innovators of all types will gather for Palm Beach Startup Week. Free and open to the public, the event will run from Monday, June 17 through Saturday June 22 at Venture X, located in downtown West Palm Beach at 700 S. Rosemary Ave., Suite 204, in Rosemary Square, previously known as City Place.
Palm Beach Startup Week 2019 is set to include between 30 and 50 individual workshops and seminars designed to help local businesses drive sales, traffic and visibility to their growing companies. The event will be led by keynotes and speakers, including Dale Hedricks and Ray Titus. Surprise guest speakers will also be in attendance, ready to lend their personal experience and insights to new and aspiring business owners in Palm Beach County.
Events will include the launch of the Women of Innovation Summit, designed to "recognize, encourage and advance female leaders who have the courage and passion to transform their ideas and ambitions into a reality," and a new Corporate/Startup Innovation Summit, intended to educate business owners on topics like investment trends and business growth. The annual State of Entrepreneurship will also be presented.
"The underlying philosophy of the event is driven by collaboration," explained Sam Edwards, the event's volunteer co-organizer and chief marketing officer of SEO.co. "The event is intended to bring a diverse group of professionals together so they can learn from each other, make new connections, and walk away with new insights about entrepreneurship and innovation."
More than 2,000 people from Palm Beach County and the surrounding areas are expected to attend.
The event kicks off with "Startup Boot Camp" at 9 a.m. on June 17, followed shortly by other sessions and workshops, including "Building Your Seat AND the Table: Strategies for Success," "An Industry Crisis: Shortage of Cyber Talent," "Capital One Business Bankers" and "Leaders of Innovation."
ssions later in the week include "How to Generate PR for Your Local Business or Startup," a workshop that covers digital marketing topics like search engine optimization (SEO) and social media marketing and "Fireside Chat: The Future of Work," an open discussion on how new technologies and trends are changing the way we work. The full schedule of events for the week is available at www.westpalmstartupweek.com/schedule.
"Palm Beach Startup Week is perfect for entrepreneurs looking for more advice, knowledge and resources so they can start or support a business. Business owners and leaders will also be in attendance to learn more about their competitors and new opportunities. It's also a valuable place to network, whether you're looking for a partner with whom you can start a business or a talented employee to help you design a new product or web site," said Connor Boss, community coordinator at Venture X West Palm Beach.
Sponsorship opportunities are available for businesses looking to promote their brand. Packages include exclusive access to special events, inclusion in press coverage and featured branding throughout the week's main events.
Registration is not required to attend but is recommended in order to receive updates on new headline speakers, programs and events to be expected during the five-day celebration of startup innovation.
Register online and get more details at EventBrite or by visiting www.westpalmstartupweek.com.