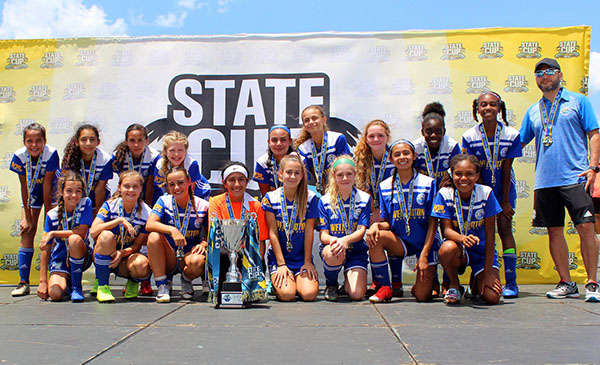 The Wellington Wave Soccer Club U13 girls team recently made club history when it won the Florida Youth Soccer Association's State Cup Tournament in Auburndale held May 18 and May 19. The U13 squad was the first Wave girls team to win the coveted title.
The team played through the season under the direction of coach Alejandro Rincon. In his first season with the U13 squad, it was uncertain how far the girls would go. However, they entered the season ranked number one in the FYSA.
"There was a bit of an adjustment period in the beginning of the season," said Mario Rodrigues, vice president of the girls program. "This was their first time on the big field playing 11 versus 11 and adjusting to the changes. Their rankings dropped a little bit, but toward the middle of the season, they started picking it back up."
The team grabbed some serious momentum when they won the National Premier League later in the season just prior to the state cup tournament, which also improved their ratings as the 10th-ranked team in the state.
They also competed in the well-known Disney tournament and the annual Wellington Shootout, which they also won. Competing in the tournaments garnered confidence among the girls with the chemistry they have, Rodrigues said.
"They're a unique group; they kind of became friends through this process," he added. "Their personalities are so different, but when they step on that field together, it's like they're playing as one personality."
The team entered state cup play dropping a close contest to top-rated Sunrise 2-1. The game was tied at 1-1, and the Wave surrendered a late goal. Through the rest of the tournament, however, they did not surrender another goal, while winning the remainder of the games.
The Wave defeated Weston in the finals in a classic penalty kick shootout, after regulation ended scoreless, to win the championship. The team is now preparing for the Southern Regional Tournament in Baton Rouge, La., set for June 21.
Winning this tournament earns them a spot to compete at the national level through U.S. Soccer, the governing body for the tournament.
The young team understands what they have accomplished and has handled their success with maturity, according to Rodrigues. He expects they will represent the State of Florida with great honor.
"They want to go to Louisiana thinking they can win nationals," he explained. "They walk into every game feeling as though they're going to win, not they could win. They're excited about going, but they feel like they belong there."
To follow the U13 Wellington Wave girls, visit www.wellingtonsoccer.com and www.fysa.com.