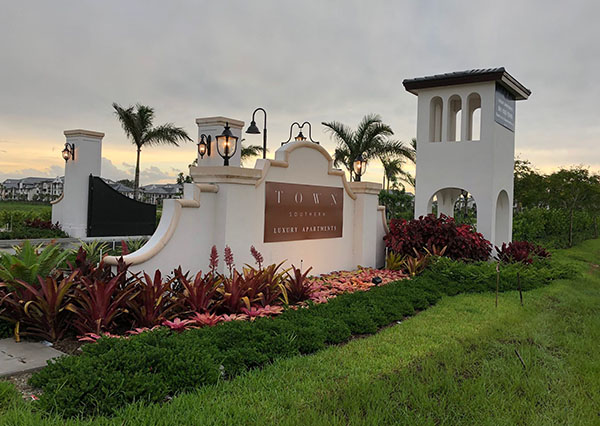 Years in the planning, the new Tuttle Royale project in Royal Palm Beach is finally taking shape, and for developer Brian Tuttle, a big risk is about to bring a big reward.
Tuttle, an industrial engineer by training who has made a name for himself in land development, isn't afraid of big projects. He also isn't afraid of properties that others avoid, such as land with complex ownership issues, mired in dispute with zoning, title or permit issues. In fact, it's his forte.
Any developer or investor can make plans on a perfectly permitted piece of property, but take one that has issues, and you can lose your shirt, explained Tuttle, who has been developing projects in Florida since 2000.
"We are known for doing difficult deals," Tuttle told the Town-Crier this week. "It can be a title issue, environmental issue, neighborhood issue or location issue."
With the Tuttle Royale project, things were a little different.
"This started out pretty clean," Tuttle said. "We were just going to buy a couple of pieces, build a small bridge and do some single-family homes. It grew out of itself."
What is now Tuttle Royale was once Acme Ranches, a rural residential enclave in a sea of development. Tuttle put together a project on one tract of land in Acme Ranches, but soon more people wanted to sell.
"As we got a couple pieces under contract and titled, more neighbors agreed to sell," Tuttle said. "So, we bought more property, and the project got bigger and bigger."
At this time, there is a total of 190 acres of land that Tuttle has acquired from property owners in the area. The land has since been annexed into Royal Palm Beach. That began a complex, years-long planning effort now coming to an end.
"Currently, we have a master plan approval for 1,100 apartments, 100 single-family homes, a charter school, a regional park and a 40-acre lifestyle center," he said. "We have all of land use and zoning approvals, and now we are getting the site plan and final plat approved."
The first phase of the project is already complete. That includes a luxury, gated apartment community called Town Southern developed by the Miami-based Related Group.
Accessed by a bridge across the C-51 Canal, the apartment buildings look a bit out of place surrounded by tracts of vacant land. However, that is about to change.
Tuttle explained that one of the other multi-family pods has been sold with construction expected to begin by the end of the year, and Toll Brothers is under contract for the tract with single-family homes.
Meanwhile, a large charter school company is under contract for the school parcel, and Tuttle is reviewing a number of offers for the remaining multi-family pod. There are also multiple offers on the table for the 40-acre commercial site, he added.
The commercial element will be a lifestyle center, Tuttle explained. He described that to mean a shopping area that combines traditional retail functions with leisure amenities. "The commercial [parcel] won't be soft goods like clothing," Tuttle said. "The commercial center will be restaurants, spas, dentist offices, childcare, fitness centers, grocery and phone stores. They are all stores you have to go to. The idea is by surrounding it with 1,200 homes, and our roads that connect to all of the projects, people will be able to live there, walk, ride a bike or drive there and never get on a major roadway."
Tuttle Royale has eight different pods. That includes a park site that will be given to the Village of Royal Palm Beach.
Tuttle earned his engineering degree from the University of South Florida. He moved to Florida in 1985 to work for IBM in Boca Raton. His section of the company was going to move to North Carolina. He didn't want to move there, so he began a landscaping and lawn maintenance company. He became friendly with the farmers and nurserymen, who taught him about raw land.
In 2000, he took his first gamble, assembling three separate parcels to be rezoned into one. Tuttle sold the rezoned land to a home builder. He continued and has since purchased approximately 250 parcels of land, consolidating them into 35 large projects in the years since.
On the business part of his endeavors, Tuttle explained that he partners up with others to make his projects a reality.
"I am the risk taker," Tuttle said. "I go out and find the untitled land, assemble it and get it rezoned. Once I remove the risk, I bring in large, national builders or developers who can do the pods. They are not in a position that they can take a high risk, because they have shareholders and investment funds. They cannot take risk with buying property that is not fully entitled."
Someone needs to go out there and remove that risk, he explained.
"Once I get that risk removed, I flip the end unit to them," Tuttle said. "Sometimes I will co-invest. Seventy-five percent of the time, I will sell the rezoned property. Twenty-five percent of the time, I co-invest with them."
To do this, Tuttle has a team of consultants. He uses land planners, environmentalists, traffic engineers, civil engineers and surveyors. Once he gets a piece of land under contract to purchase, the team meets. They do what needs to be done to make the project a reality.
When it comes to the real estate market and the current economy, Tuttle noted that the work he does is not easy, and it doesn't always pay off.
"There are two levels: pre-approval and post-approval," Tuttle said. "Before I get my approvals done, I can tell you that the market is very cruel. The banks will not lend you money on untitled land. Investors charge very high interest rates. It is all because of the risk factor. For every seven deals we do, one of them is a complete loss."
Tuttle primarily uses private and high-risk investment money to complete the pre-entitlement. Once it's entitled, and the property no longer has risk, then things are a bit easier.
"When you remove the risk, then the real estate market is on fire," Tuttle said.