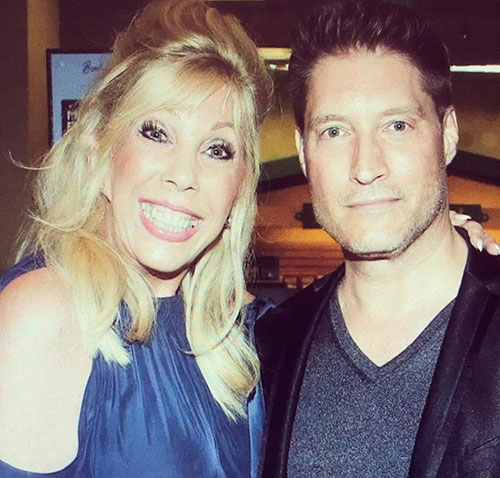 By Meredith Burow
What do an Olympic gold medalist, a billion-dollar investor and a soap opera star have in common? To Wellington resident Jill Liberman, their advice provides an opportunity to inspire the world.
Liberman, an author and motivational speaker, recently co-wrote Success Factor X, a colorful collection of stories and advice from successful, well-known (and lesser-known) individuals. Since its release, it has both completely sold out of its first printing and clocked among Amazon's top new releases.
The book started after Liberman called General Hospital star Sean Kanan, whom she had interviewed 15 years ago for her first book, American Pride: Famous Americans Celebrate the USA. Though she merely called to wish the actor a happy birthday, the two found themselves discussing Kanan's desire to do a project that would encourage and inspire people.
"It's interesting, because we hadn't spoken in quite a while, but I caught him on a day — maybe because it was his birthday — he was really reflecting on his life," Liberman said. "And he was saying that he'd like to do a project that was meaningful, that gave back to people, that inspired people."
She suggested that they collaborate on something, and that discussion led to Success Factor X: Inspiration, Wisdom and Advice From 50 of America's Best.
The book contains thoughts and opinions on success from 50 accomplished people, such as Seinfeld star Jason Alexander, Spanx founder Sara Blakely and Dallas Mavericks owner Mark Cuban. The purpose of the book is to nudge its readers toward their own growth and success by compiling and presenting tips from the pros.
Liberman and Kanan started by making a list of individuals they considered successful, some of whom had previous connections with the duo. They then reached out to them — either via existing relationships or by researching their contact information — asking them to define what success means to them and to share stories, tips and advice on the subject.
"We wanted people we thought would really be able to add value to the book in terms of what they had to say," Liberman explained.
While some of the potential contributors may have had readily recognizable names, others were less well-known. Liberman, however, wanted them all to shine.
"There's so many interesting people out there who maybe don't have publicists, or it's not important to them to have their name sprinkled on the cover of magazines," Liberman said. "But they have great stories and great advice."
As the contributors were given free rein on the task, not needing to adhere to any word count or writing format restrictions, Liberman and Kanan began to receive a wide range of responses. E-mail after e-mail came in, each representing a different person's unique answers to the authors' requests.
"It's funny, every time that a submission came in and I'd read it for the first time, that became my favorite," Liberman said. "Each one was a surprise to me."
The only submission that wasn't a surprise was her own. Liberman and Kanan both have a section in which they share their own thoughts on success.
The book launched on May 15 of this year, and the authors have already traveled to book-signing events across the nation.
Kristen Boyd, a Wellington resident and faithful fan of Liberman's writing, said she was excited when she learned about Success Factor X and was intrigued after seeing posts about it on social media. "It's really inspiring because there's advice from so many diverse backgrounds," Boyd said. "It's great to read, great to gift someone, and the best to just have on hand when you need a boost of motivation."
While Success Factor X is the fourth book that Liberman has written, she is still touched by the positive responses that she and Kanan have been receiving.
"I'm so grateful that people spent their hard-earned money and purchased the book," Liberman said. "And [that] they took the time to read it and then to let us know how much it meant to them."
To learn more about the book, visit www.successfactorxbook.com.