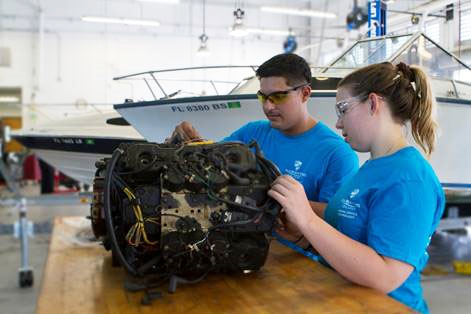 Florida's recreational marine and boating industry is growing at a fast clip, making it hard to fill job openings for marine mechanics and service technicians. Now, Palm Beach State College stands ready to deliver these sought-after job candidates by launching the first technical certificate program of its kind in Palm Beach County.
Classes for PBSC's new Marine Service Technology program start Aug. 22, and those interested in enrolling should attend the information session on Wednesday, Aug. 7 at 5 p.m. in room ETD 103 of the Education and Training Center on the Lake Worth campus (4200 Congress Ave.). For more information about the program, call Program Director Eligio Marquez Jr. at (561) 868-3542 or e-mail marqueze@palmbeachstate.edu. More information is also available at www.palmbeachstate.edu/programs/marine-service-technology.
Program graduates will be ready to work in marine dealerships, boat repair shops and yacht maintenance facilities. Through a partnership with the American Boat and Yacht Council, PBSC will offer a comprehensive curriculum designed to train marine service technicians according to national industry standards and practices. Students will gain hands-on experience in labs and on boats, and receive a postsecondary adult vocational certificate for completing the program, which takes 14 months of full-time day classes or 16 months of evening classes.
"By integrating ABYC's industry standards-based curriculum with our Florida state framework, we'll be able to offer the best possible program to our students, the future marine technicians Palm Beach County greatly needs," Marquez said.
The expanding marine industry in Palm Beach, Broward and Miami-Dade counties had an estimated economic impact of $12 billion in 2018, an increase from $11.5 billion in 2014, according to a recent study by Thomas J. Murray & Associates, provided by the Marine Industries Association of Palm Beach County. This growth translates to a 2018 total of 32,323 employees in marine services in the tri-county area and reinforces Marquez's confidence in his graduates finding jobs quickly.
"This program came out of a series of meetings that we had with the Riviera Beach Workforce Development Task Force," Marquez said. "They asked Palm Beach State College to create a marine program because of the high demand and necessity to have a program in our own backyard."
Charlie Navis and Andrew Holley, co-owners of Boat Connection, a long-established West Palm Beach boat sales and service company, donated two of the boats that the students will work on, as well as engines and other parts.
Navis likes the ABYC curriculum and looks forward to the program graduates entering the job market. Due to the shortage of applicants with motorboat training, Navis has tried recruiting people with related experience, which hasn't always worked out.
"A lot of them are car mechanics who want to get into the marine industry, and it's not the same by any means," Navis said. "So, to actually have a school that's local, that has the capability of putting out job candidates who are good — that will be great for us."
In the tri-county area, motorboat mechanics and service technicians earn a median salary of $47,950, with top salaries reaching $72,190.
Richard Vincent, a Marine Corps veteran and John I. Leonard High School graduate, will enter the program fresh from PBSC's Automotive Service Technology program. "With the automotive program, I found I was mechanically inclined, but I like the ocean — fresh water, too — and enjoy being outdoors," he said. "As soon as I found out that they were creating a marine technician program here, I jumped at the opportunity."