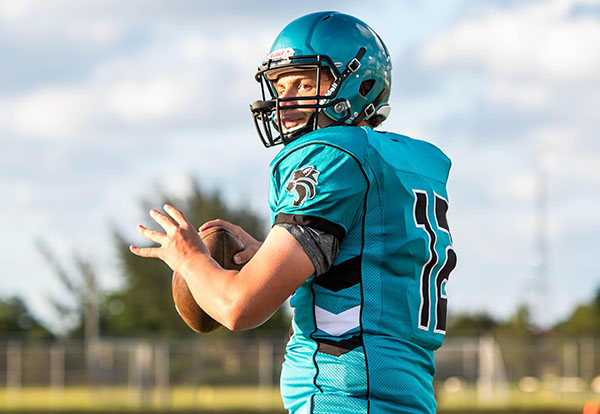 If anyone is ready for high school football this fall, it is Royal Palm Beach High School quarterback Peyton Mainolfi. The 6-foot-4, 220-pound junior was thrown into the starring role under center for the Wildcats his freshman year and has watched his first two seasons unfold without a victory.
Others might have thrown in the towel, but Mainolfi has stayed the course. His dedication has earned results, most notably the Wildcats' recent spring season. Royal Palm Beach competed in a spring jamboree against Suncoast and John I. Leonard high schools and won both games, which included two touchdown passes from Mainolfi.
"I got great, valuable experience that helped me develop as a quarterback," Mainolfi explained. "I got to learn a new system and learn to read defenses that help slow the game down for me. The second year in the system helped our team tremendously. Everyone knows their assignments, and we'll have a balanced attack this fall."
Mainolfi credits much of the team's growth to head coach Davis Lowery, now entering his third season at the helm. "Coach Lowery is a great influence and has been changing the culture since the first time he came to the school," Mainolfi said. "He has also sacrificed a lot for us, too."
Lowery has had quite a challenge in changing the culture of Wildcat football, but dividends are finally paying off for the program, especially with Mainolfi.
"His spring performance came from his own hard work and development, and doing the simple things correctly," Lowery said of Mainolfi. "He took the reads he was given and made great decisions. He also accepted the high percentage pass without forcing a throw. The offensive line played well, and our outside receivers were more precise in their routes."
Mainolfi has also taken on a leadership role, not just with the offense but with the entire team.
"He does have a leadership role in ethic and action," Lowery said. "No one knows the offense better than him, and not many could be more reliable in execution at this point. He is willing to say the difficult thing regardless of how others may react. He has all the characteristics you want in a developing quarterback and captain."
The junior has remained busy working in camps to improve his game. "I've been working on my speed and footwork," Mainolfi said. "I have also been doing seven-on-sevens to get timing down with my receivers."
Size is often an attribute you don't get to see at the high school football level in the quarterback position. "My size helps me see over the linemen to get better throwing lanes," Mainolfi explained. "It also helps me take more hits and be able to throw the ball when getting hit, and I feel it helps me throw deep passes over the top of defenses."
Winning both spring games ignited an excitement and anticipation for the approaching fall season, and Mainolfi is aware of what lies ahead.
"It'll bring an excitement to school and bring the community closer together," he explained. "The playoffs are one of our main goals. It will help the football program a lot in the future if we make the playoffs."
Mainolfi not only has excelled on the field, but he brings equal qualities into the classroom. With a GPA of 4.0, he has drawn attention from Kansas State, the University of Florida, Navy, Harvard, Dartmouth, Cornell, Yale and the University of Pittsburgh. Their interest has grown through the summer by virtue of Mainolfi's success at recent camps.
But there is still much work to do, Lowery said. "I'll expect more from him on ball and sideline this year, and I'm confident he'll deliver," he explained. "Often times, it's a simple lens adjustment, since he has such a great mind. The more any player develops the skill of being able to adjust their focus, it leads to everyone's success around them."