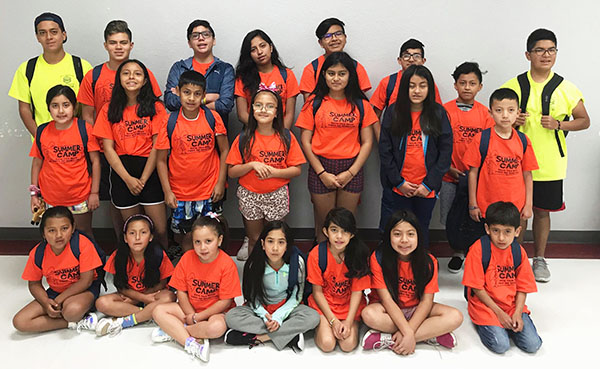 The Royal Palm Beach Parks & Recreation Department's summer camp is in high gear, and this two-week session features a contingent of 22 students visiting from Ecuador who have joined the ranks of some 400 campers who will participate over the eight-week summer program.
"They flew in from Ecuador to El Salvador to West Palm Beach on Sunday night, and this is their first week," Camp Director Shawn Och said.
Och explained that next week, the visiting campers finish up their time in Royal Palm Beach, and their visit culminates with a trip to Orlando for a weekend at the Walt Disney World theme parks. "They come here to experience summer camp in America," he explained.
That experience is a busy one in Royal Palm Beach, with campers dividing into 10 groups and each group taking a field trip every day.
"The camp has been conducted 30-plus years," Assistant Director of Parks & Recreation Mike Mikolaichik said. "We have approximately 400 camp participants throughout the summer. The camp has been extremely successful and has grown in participation over the past several years."
Mikolaichik said that the goal of the camp is to provide a safe place for local youth during the summer.
"Our summer camp provides local children the opportunity to participate in a safe, engaging and fun environment while developing their social and physical skills," Mikolaichik said. "Some of the daily activities include bowling, swimming, art classes, participation in a variety of sports and performing in a talent show. Campers also enjoy field trips to Calypso Bay, Dubois Park, the pool, the movies, Urban Air, local parks and more."
The Ecuadoran connection began close to a decade ago when exploratory discussions began and about 20 students started coming the next year, although they skipped some years when the program had less than 20 youth interested. They are all from a school named Ludoteca in Quito, Ecuador.
"Over eight years ago, a liaison contacted the board of education about summer camps in South Florida and was connected with the Royal Palm Beach Parks & Recreation Department's summer camp," Och said.
The program turned out to be a compatible fit, based on location, pricing and more.
"They began sending students here whenever they had a group of about 20. They have come for six of the past eight summers that I know of," Och said.
They attend the summer camp for a two-week session. It is not government sanctioned or supported, or a religiously sponsored endeavor. It is through the school in Ecuador and Royal Palm Beach.
"It is 22 kids visiting this year," Och said. "They come like any other kid does, and they do all the things that the kids from our local area do, and they interact with our kids. They learn about our kids, and we learn about them. It's a win-win situation for each of the groups. The kids get to interact with each other and learn about each other's culture, language and way of life.
The campers started the week on field trips swimming, bowling, visiting Urban Air Adventure Park and going to several local restaurants.
"The kids are separated by age groups, and there's different field trips each day," Och said. "The rest of the day is filled up with sports and arts & crafts and things around the Recreation Center."
There is a talent show next Wednesday, July 17, to show off talents to the other students, staff and parents.
"The show is like one of our field trips, so we go to the Royal Palm Beach Cultural Center for a couple of hours in the afternoon to practice in their age groups. We have four different age groups," Och said.
He likes how the visiting campers tend to become more interactive as their visit continues.
"Every year, it is the same. On the first day or two of camp, they're always a little shy," Och said. "The Ecuadorans don't know what to expect, and neither do the local kids. Then they get to know each other during the course of the two weeks, and by the end of the time, they're hugging one another goodbye and some are staying in touch via social media."