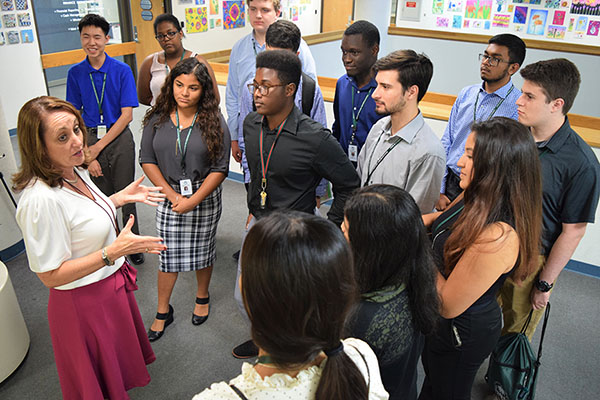 As a student in Spanish River High School's American history and law academy, Benjamin Presser has spent years studying the justice system and its role in society.
This month, the rising senior got the chance to see what it's actually like to work in the legal field as part of a summer internship program offered by the Palm Beach County Clerk & Comptroller's Office.
"For so many years, we've learned about the court system," said Presser, one of 32 local high school students who participated in the 12-day program. "We finally got to see it."
The Summer Financial and Justice Literacy Internship Program allows students to work side-by-side with dozens of members of the Clerk & Comptroller's professional team. Students get to sit in on real court cases, see how evidence is handled and learn how the Clerk & Comptroller's Office invests county funds.
"It really opens your eyes to what these careers are like," said Mathew Vasquez, a student a Lake Worth High School.
Genesis Reyes Sencion, a rising senior at Suncoast High School, is now considering a career in political science as a result of the internship. "I want to have an impact on my community," she said.
The internship program also teaches students how to showcase their skills during a job interview, manage their own finances and plan for retirement.
"It is useful information that is going to help determine what I do for the rest of my life," said Joe Bonevento, a rising senior at Suncoast High School. "It was a very unique experience."
Clerk & Comptroller's Office Chief Operating Officer Shannon R. Chessman developed the program in 2012 in partnership with Tazeen Rashid, a teacher at Suncoast High School. Since then, the program has expanded to include students from schools across Palm Beach County. "This internship program is an important part of our commitment to our community and developing the next generation of leaders in Palm Beach County," Chessman said. "Public service is at the core of our mission, and it's our privilege to share that with the great group of interns."
Ryan Jacks, a rising senior at Suncoast High School who is exploring a career in investing, said the program is more than an internship. "It is getting to expose yourself to new things that can help you in your future," he said.